Check Marks the Spot: Alaïa's Spring 1991 Tati Collection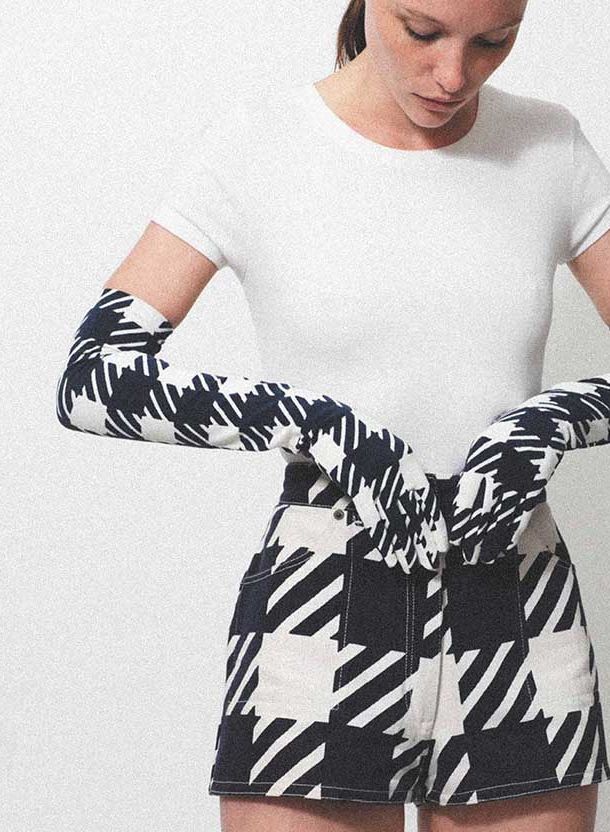 What excited me was to attach my name, and the world of haute couture, with this brand that represented bargain clothing and bargain prices. When I would fly home to Tunisia, I would see travelers at Paris' Orly airport with huge Tati bags, full to the brims. I wanted to make something qualitative for this clientele, who couldn't afford designer clothes.
— Azzedine Alaïa
Azzedine Alaïa's Spring 1991 Tati print has become something of legend.
Decades before it was the rage for designers to partner with high-street brands, Alaïa was there, doing it for the love, the fun and the curiosity – not for publicity, a sensibility that would always go on to separate him from his contemporaries.
But how did this now legendary, avant-garde collaboration originate?
We look back and the check that marked a spot. Founded in the working Parisian neighborhood of Barbès in 1948, Tati met the demands of a growing population, who was looking for easy clothing at inexpensive prices. The store became famous for its bargain-hunting ways, with large bins full of clothing where shoppers would dig to find their pearl in the rough. But what really made Tati legendary was it's now mythic houndstooth vichy check print, which has been referenced by fashion designers from Phoebe Philo at Céline (2013), Marc Jacobs at Louis Vuitton (2007) and Demna Gvasalia at Balenciaga (2016).
But it all started with Azzedine Alaïa in 1991…
In 1990, Alaïa's friend, the artist Julien Schnabel, was visiting Paris when they drove by the Tati store on boulevard de Rochechouart. Schnabel, hypnotized by the imposing pink and white vichy check, wanted to use the print as a backdrop for a series of paintings. Schnabel's work was such a success that Alaïa was inspired to bring the same accessibility to couture.
In 1991 he formed was the first luxury / high street collaboration, creating a bag, t-shirt and espadrilles for Tati, in return for the right to use their famous check in his designs. Months later, Helena Christensen, Elle Macpherson, Carla Bruni, Yasmin Le Bon and Farida Khelfa, powered down his Marais atelier in renditions of the impactful Tati print: oversized, in stretch, head to toe, in denim, a statement of democratic fashion that brought the Street to the salons of Paris. All with the playful, yet immaculate precision that Alaïa took to emphasize and flatter the female form.
At ReSEE, every one of our vintage pieces comes with a story. This is, in large part, thanks to our unmatched community of consignors.
Though parting with such sartorial treasures may not be easy, the exceptional personal care we put into ensuring that they will go on to live a second (or, sometimes even, a third, fourth, or fifth) life offers a thrill — one rivaled only by that of the besotted shopper who adds them to her wardrobe.
Sell with us