Memories of Saint Laurent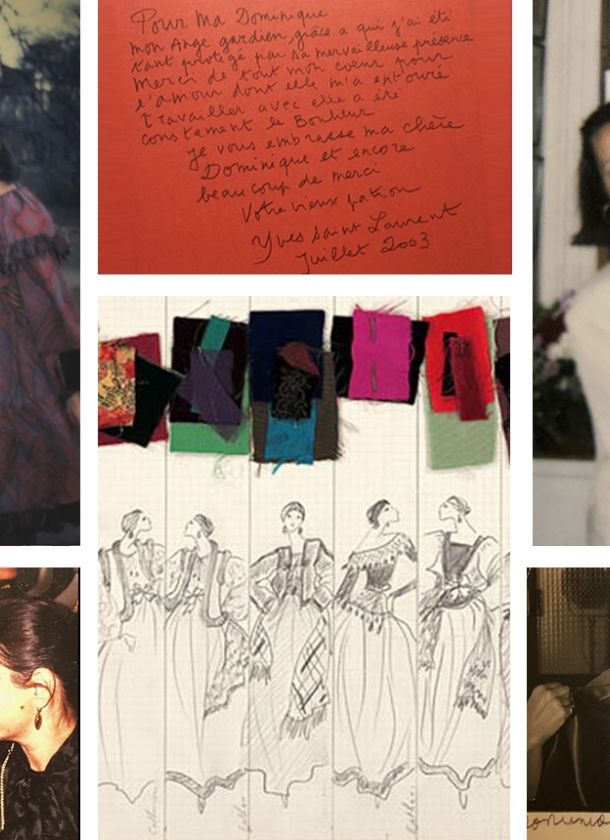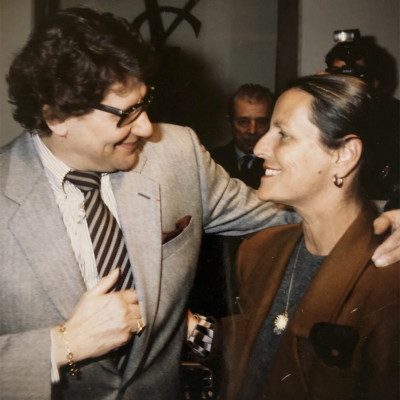 The Saint Laurent bracelets that decorate her arm affectionately rattle with every gesture, the walls a feast for one's eyes, elegantly mixed Asian art with bold prints. We are in the home of Dominique Deroche, the woman who worked at the side of M. Saint Laurent and M. Bergé for forty years, as head of Press for Haute Couture.
Now, almost 20 years after the curtain drew on Yves Saint Laurent's last Haute Couture show, Dominique Deroche reflects on the magical years working besides the passionate genius who empowered women and remains one of the most referenced designers of all time.
I feel in love with Couture. I was like Alice in Wonderland.
But Dominique Deroche started her career with the great couturier almost by chance.
I wasn't very good at school, so my father sent me to England to learn English. A friend of mine had just started working at Saint Laurent and called me to tell me they were looking for people to hire.
We are December 1965, just months after M. Saint Laurent showed his legendary Fall/Winter Collection paying homage to Piet Mondrian with a series of colorful geometric wool jersey dresses. Deroche began in Yves Saint Laurent's famous rue Spontini atelier, where everyone worked closely together as a family.
I learned quickly how to be a Yves Saint Laurent women. The way you spoke (never too loudly), the way moved, the way you dressed, it was an elegance that came directly from M. Saint Laurent.
It was the mid 1960s and there was a thrill of change in the air. Movements in art, literature and fashion were ripe, cultural barriers were breaking, the power of the youth-led 1968 demonstrations were still a few years away, but there was change in the air. Saint Laurent wanted to capture this, tired of dressing only wealthy patrons, he wanted to dress a younger clientele in a more informal, yet still elegant way.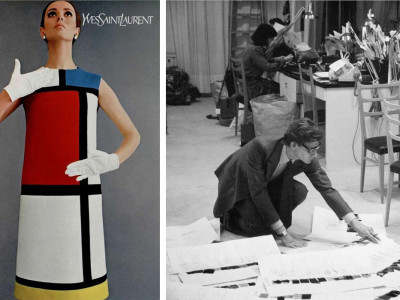 In September 1966, Dominique Deroche helped open the famous Rive Gauche store on rue Tournon in Paris' left bank.
There were stylists that had stores in Saint Germain des Près, but M. Saint Laurent was the first couturier to open a shop. It was revolutionary.
Rue Tournon was a sleepy little street right off of the Senate. With luscious red lacquer walls and ceilings, modern art that hung aside crepe dressed and strong colored prints, it was the antithesis of the traditional political elite that walked the corridors nearby.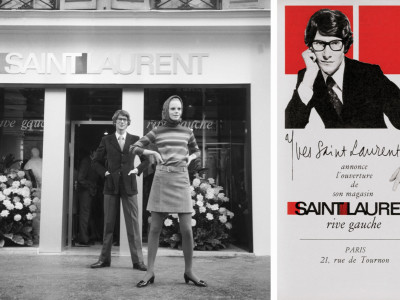 And yet he day after the opening of the Rive Gauche boutique, rows of cars stood parked as 'tout Paris' (and New York, and London) flocked to 21 rue Tournon for the famous double-breasted gabardines, the revolutionary pantsuits and of course, the famous Yves Saint Laurent Smoking.

There was nothing more beautiful than an Yves Saint Laurent Smoking. It was a piece of clothing that penetrated the imagination and was instantly recognizable. Catherine Deneuve used to say that when she arrived at an event or a dinner wearing her Yves Saint Laurent smoking, she felt her most elegant.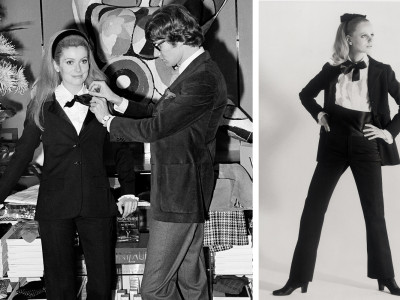 Indeed, what defined Yves Saint Laurent's success was that he made women feel beautiful and strong.
He (M. Saint Laurent) brought women a uniform, an allure. And not a staged or pretend allure, a real allure. He modernized clothing and the way women dressed - you could go to the office in a pantsuit, switch your top with a bra, a pair of sandals and you were ready for your night out. You didn't need to change three times.
And every Saint Laurent piece a pocket.
"There were always pockets in Saint Laurent clothing," says Deroche, elegantly placing her hand in her pocket of her Yves Saint Laurent leopard print jacket.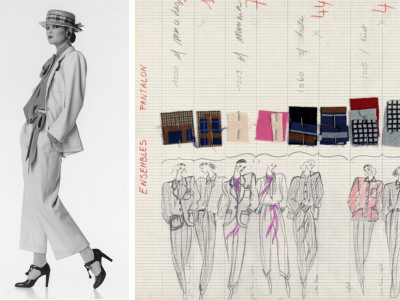 M. Saint Laurent saw elegance in movement —the movement of a woman brushing her jacket aside to slip her hand in her trouser pocket.
This notional of movement transcended all of his collections and even the Couture skirts and dresses were always made with an ample side pocket.
M. Saint Laurent didn't want his woman awkwardly standing within no place to put their hands. A woman is always assured with a hand in her pocket.
It was every detail, every subtlety, this innate attention to detail and the passion that kept Dominique Deroche dedicated to Yves Saint Laurent for over forty years.
We were like a family and today there are not many of us left. M. Saint Laurent is gone, M. Bergé is gone, Mme Muñoz, the Director of the Studio, is quite ill and cannot speak — I feel that it my responsibility to share these stories, these wonderful moments that were so unique to this time in fashion and to this very special man.

La passion Saint Laurent m'habite encore. The house of Saint Laurent is in my veins.
At ReSEE, every one of our vintage pieces comes with a story. This is, in large part, thanks to our unmatched community of consignors.
Though parting with such sartorial treasures may not be easy, the exceptional personal care we put into ensuring that they will go on to live a second (or, sometimes even, a third, fourth, or fifth) life offers a thrill — one rivaled only by that of the besotted shopper who adds them to her wardrobe.
Sell with us