Collector Stories: Carmen Haid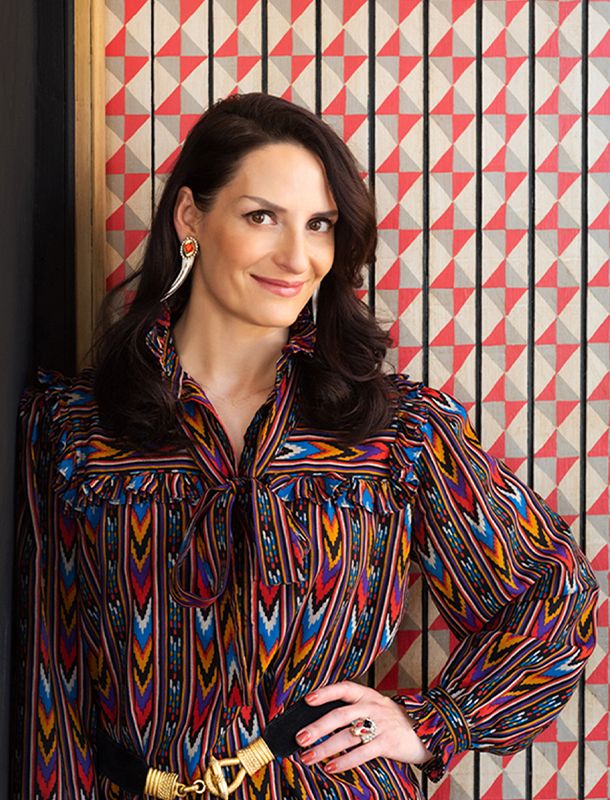 Photo credits: Portrait Mark O'Flaherty
In the 1970s, when consultant Carmen Haid was just five years old, she attended her first-ever fashion show with her late grandmother, an haute couture seamstress in Austria. "I identified on the catwalk all the pieces she made," Haid recalls. "I was so excited. She even made me a special dress for it." The sartorial experience proved formative, prompting a three decade-plus fashion career — after moving through the ranks at Saint Laurent, Gucci, and Céline, Haid eventually left PR to launch Atelier Mayer, a needle-moving secondhand e-boutique — not to mention a life-long love affair with exquisitely crafted clothing and accessories. Here, she opens up her bursting collection of vintage bijoux and shares the best tips for starting your own.
How did you get into fashion?
My late grandmother was definitely the inspiration to go into fashion. I grew up in Austria, but I couldn't really study anything else there than fashion design and I knew I wasn't a designer — I wanted to be behind the scenes — so I went to London and I studied fashion management back in the 90s. At the same time, I found myself a job as a PR assistant at Saint Laurent when Monsieur Saint Laurent and Pierre Bergé were still alive. Monsieur Saint Laurent decided to just concentrate on haute couture, so we hired Albar Elbaz for women's and Hedi Slimane for men's. Both of the designers were really not well known back then. I remember there were maybe 30 journalists at Hedi Slimane's first show... Then, Pierre Bergé decided to sell the company to the Gucci Group, now Kering. A lot of the management changed because it was Tom Ford taking over creative direction, but I stayed and ran the department for another few years. It was a really interesting time in fashion because it was when the conglomerates were forming and when the star designers were born. Then, I helped launch Céline in the UK. It was like the problem brand of LVMH back then, but in five years we managed to put it into the top luxury brands.
Why are you drawn to vintage?
I like the provenance and the history and the idea that somebody else had it before. I believe that we are all energetic beings and sometimes you can get great energy from a vintage piece, especially jewelry. Jewelry is metal and metal is a great transmitter of energy, if you break it down to science. Even though things are solid, they're still moving. With metal and stones you have different vibrations.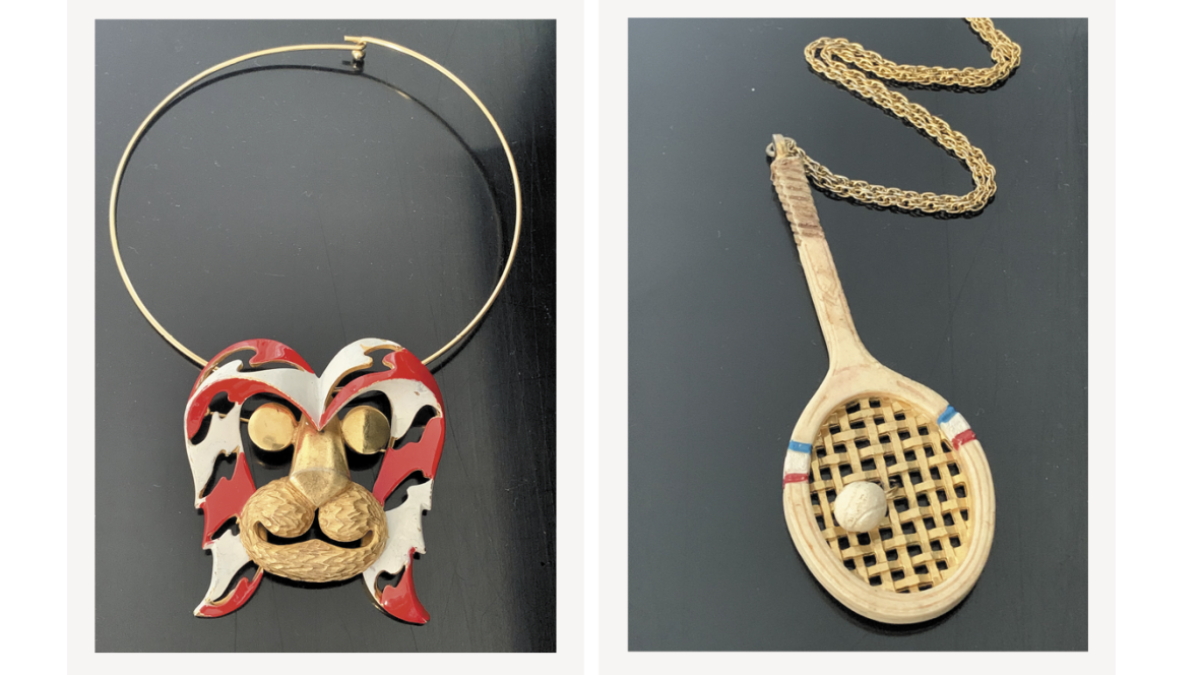 1960s Pierre Cardin Necklace & 1950s Tennis racket pendant necklace by Razza
What was your first vintage piece?
I started collecting from an early age because it was more economic and also it was unique — I quite like to have different things from anyone else. I also just loved the designs and the materials that they used — some of them don't exist anymore – such as certain types of resin or bakelite or lucite or wood carvings and inlays. It's very hard to get that craftsmanship these days. I remember one of my earliest pieces — actually I still have them — are a pair of vintage enamel pendant earrings with a floral pattern and different colors of blues and greens that I got for my birthday.
What eras or designers do you gravitate towards?
I love Eisenberg from the 30s, and Joseff of Hollywood who was the premier costume jeweler in Los Angeles. He created beautiful pieces for actresses, such as Greta Garbo in Camille, Marlene Dietrich in Shanghai Express, and Vivien Leigh in Gone with the Wind. In the 40s, German manufacturer Schreiner produced pieces for Dior and also had its own line of stunning and collectable designs. I'm also always drawn to the 60s and 70s and space age jewelry.
Is it important to you that the pieces you collect are signed?
The idea of heavy logos and branded jewelry only took off in the 70s, having its heyday in the 80s with a lot of licensed product coming out, which diluted the brand image. For instance, Pierre Cardin even had branded toilet rolls and Yves Saint Laurent sold branded cigarettes. In the earlier decades, however, not everything was signed. Chanel haute couture jewelry wasn't signed, but it is still recognisable because of the distinctive way the backside was molded. In the 60s, Roger Scemama designed haute couture jewelry for Yves Saint Laurent — these pieces are rare and covetable, but not all of them are signed. It is not necessary to buy only signed vintage jewelry as it is too restrictive. A good eye recognises statement pieces with exquisite design and hand craftsmanship, which goes beyond the signature.
Do you still collect?
I'm not going out searching for pieces. If I come across a really interesting piece, I'll look at it and maybe I'll acquire it, but it's not like I need to build up a collection of vintage jewelry because I have quite a lot. When I do consider buying a vintage piece of jewelry, I always look at the design, materials, and techniques used, as well as the overall condition.
Do you wear any of your collection?
Of course! I wear them all the time. I always mix and match. I think that's the only way to wear vintage. You can have a pair of trainers and you can have a pair of fabulous couture earrings or bracelets. I'm a big fan of bracelets as well.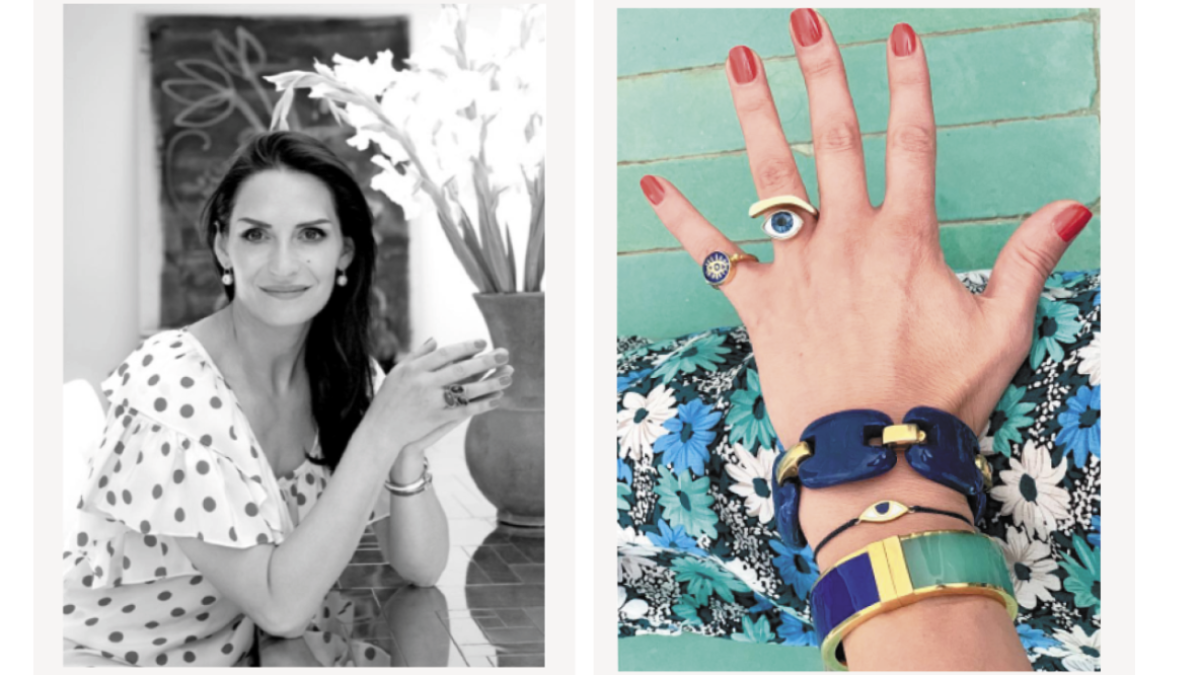 What's your greatest vintage find?
Probably my early Chanel ear clips from the 30s and 50s, or some Yves Saint Laurent haute couture pendant earrings from the 60s designed by Scemama.
Is there a piece that got away?
A lot of people in vintage actually don't really want to sell their pieces because they get so attached to their collection, and I was like that for a certain period of time, but it's about the art of letting go.
Do you have any tips for someone looking to start their own vintage jewelry collection?
A good way to start a vintage jewelry collection is to research and discover new materials — go for a style and then look at the designer — and buy pieces that you'll wear. Vintage is beautiful when you use it and give it a new spin. Mix and match it with your current wardrobe. Why not wear a haute couture ring with a hoodie?
as told to Zoe Ruffner
At ReSEE, every one of our vintage pieces comes with a story. This is, in large part, thanks to our unmatched community of consignors.
Though parting with such sartorial treasures may not be easy, the exceptional personal care we put into ensuring that they will go on to live a second (or, sometimes even, a third, fourth, or fifth) life offers a thrill — one rivaled only by that of the besotted shopper who adds them to her wardrobe.
Sell with us