Collector Stories: Eden Pritikin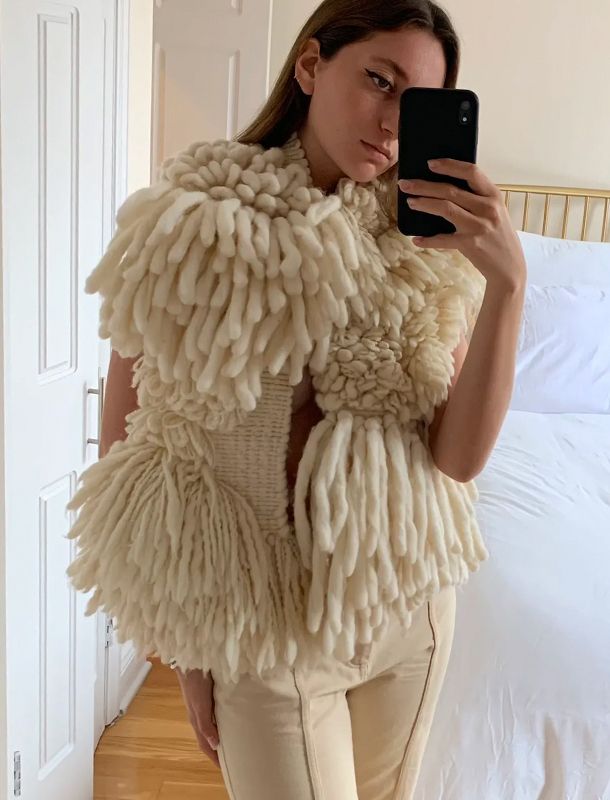 Eden Pritikin didn't grow up around fashion—save for a pair of hot pink cheetah-print Louboutin heels that belonged to her childhood friend's mother—but she's more than made up for any lost time: At just 24-years-old, the recent London College of Fashion graduate has established herself as one of the leading collectors of Nicholas Ghesquière's Balenciaga, thanks, in part, to a chance encounter with the designer's now iconic Spring 2003 scuba-print top. "I was so taken aback emotionally that I started crying in the store," she recalls. "I just wanted to reclaim that feeling over and over again." Here, Pritikin discusses her archive, from the emotional highs to the piece that landed on the cover of Self Service.
What's your earliest fashion memory?
Fashion is not something I grew up around. I think the world of social media helped educate me in the sense that I was able to figure out my own taste and figure out what I liked, so I basically did a deep dive—just for my own reference—around 2013. I went back into major designers' past ten years' of collections and just studied them. What made it very easy for me to remember the brands and the seasons were the models who wore the clothes. I kept a massive folder on my computer—it was just titled MODELS—which was an encyclopedia of models and every show they had walked. I probably had ten years' worth of runway photos for at least 50-plus models on my desktop. I had to delete it eventually because it was just way too big!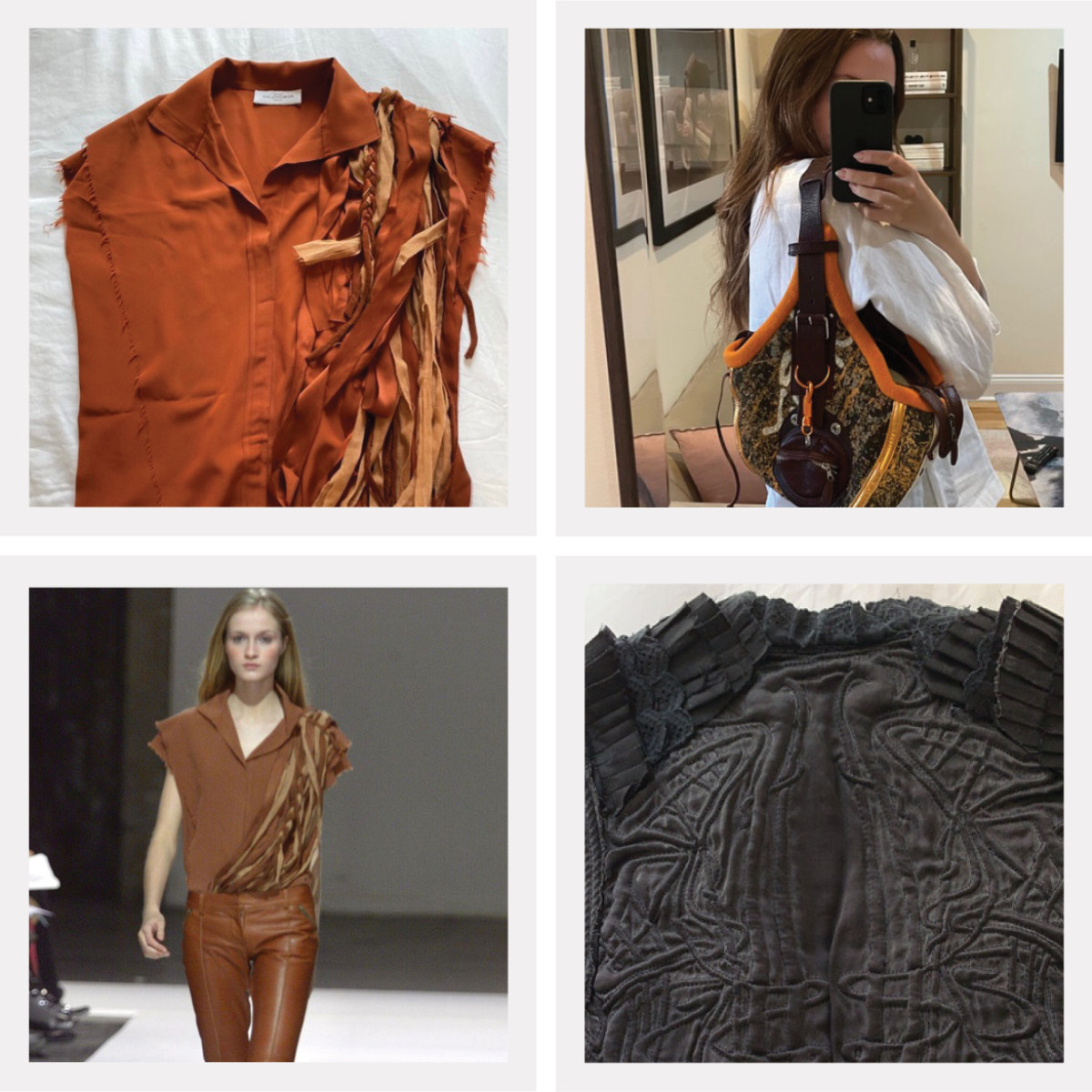 Why are you drawn to Nicolas Ghesquière's Balenciaga?
Ghesquière's Balenciaga was one of the first brands I looked at. Everything I saw after that I just compared to his pieces and found that nothing really measured up in terms of the emotional excitement I felt when I saw his designs. I think what really stood out to me the most at the time were these high-waisted scuba pants and short cropped scuba tops in the Spring 2003 collection. I remember seeing them and thinking, Wow, he was so ahead of his time. The prints and the themes throughout the collection—especially that jungle print—I found to be extremely beautiful. It reminds me of my favorite painting, the Sleeping Gypsy by Henri Rousseau, which I'm staring at right now in my apartment. Later, I did my own research into the backstory behind the print and discovered that it came from the Secret Garden at The Mirage in Las Vegas where you can swim with dolphins.
I focus on 2000-2004, so it was back when production volume was very low and he wasn't so controlled by what was selling commercially; he had a lot more freedom to really explore his own talent as a designer. What I really respect about it is it looked like nothing that was coming out at the time. It wasn't as polished and put-together as you see today. He was working with [the stylist] Marie-Amélie Sauvé, but there was still something slightly messy about it. It looked like he wasn't trying to do something perfect, but he was experimenting—and it was working. The pieces translated very well from the runway to one's closet. The best example of that is the Spring 2002 collection: the silk patchwork pieces are just as beautiful on the runway as they are hanging in my closet. They are pieces that I'll take out from time to time just to stare at them.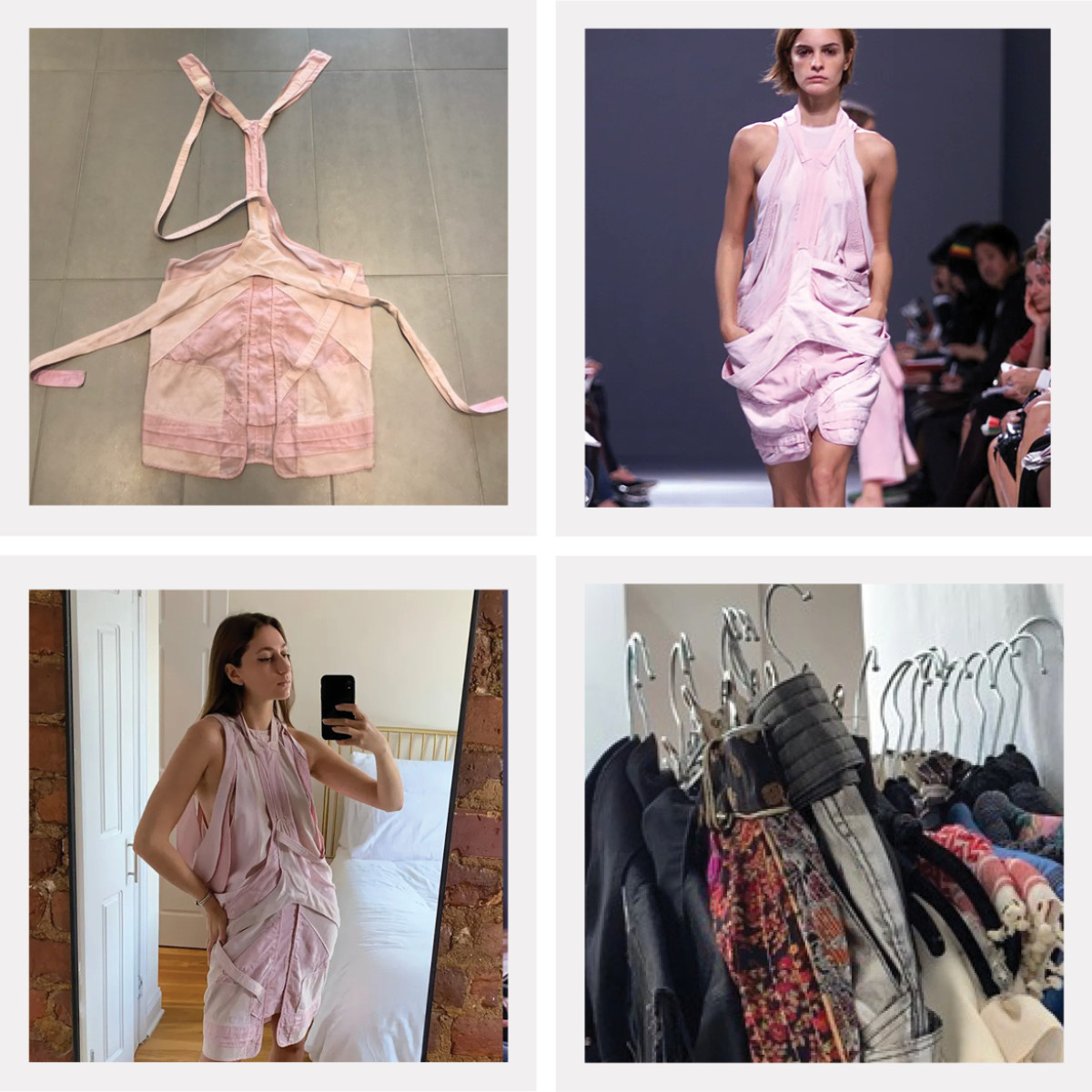 How did you begin collecting?
When I was in high school I discovered these online resale sites that I got super involved with and realized really quickly that I could afford designer clothing, even if it wasn't brand new. I think the first Ghesquière piece I got was a jungle print t-shirt—not even a runway piece—that I found on eBay. I think it cost $100 at the time, so I saved up my money. I remember wearing it with pride. After that, the next piece was a pair of the silk brocade pants from Spring 2006. Those didn't fit me and I remember being devastated. I made it my mission to find more of his pieces. I didn't have such a great understanding of the vastness of the vintage market. I didn't know where to look, but I just set out to see what I could find and afford. The next piece I bought was this riding jacket from Fall 2006. I remember I wore it to a studio in London during Fashion Week and someone came up to me and asked if it was Fall 2006. That was the first time someone had recognized what I was wearing and I got so excited. Something sparked in me; I realized people were as interested in his pieces as I was. It wasn't until that summer, summer 2017, that I found the actual scuba top from Spring 2003. It was my first time seeing a piece of that caliber in person. I was so taken aback emotionally that I started crying in the store. Collecting became about chasing a high. I just wanted to reclaim that feeling over and over again.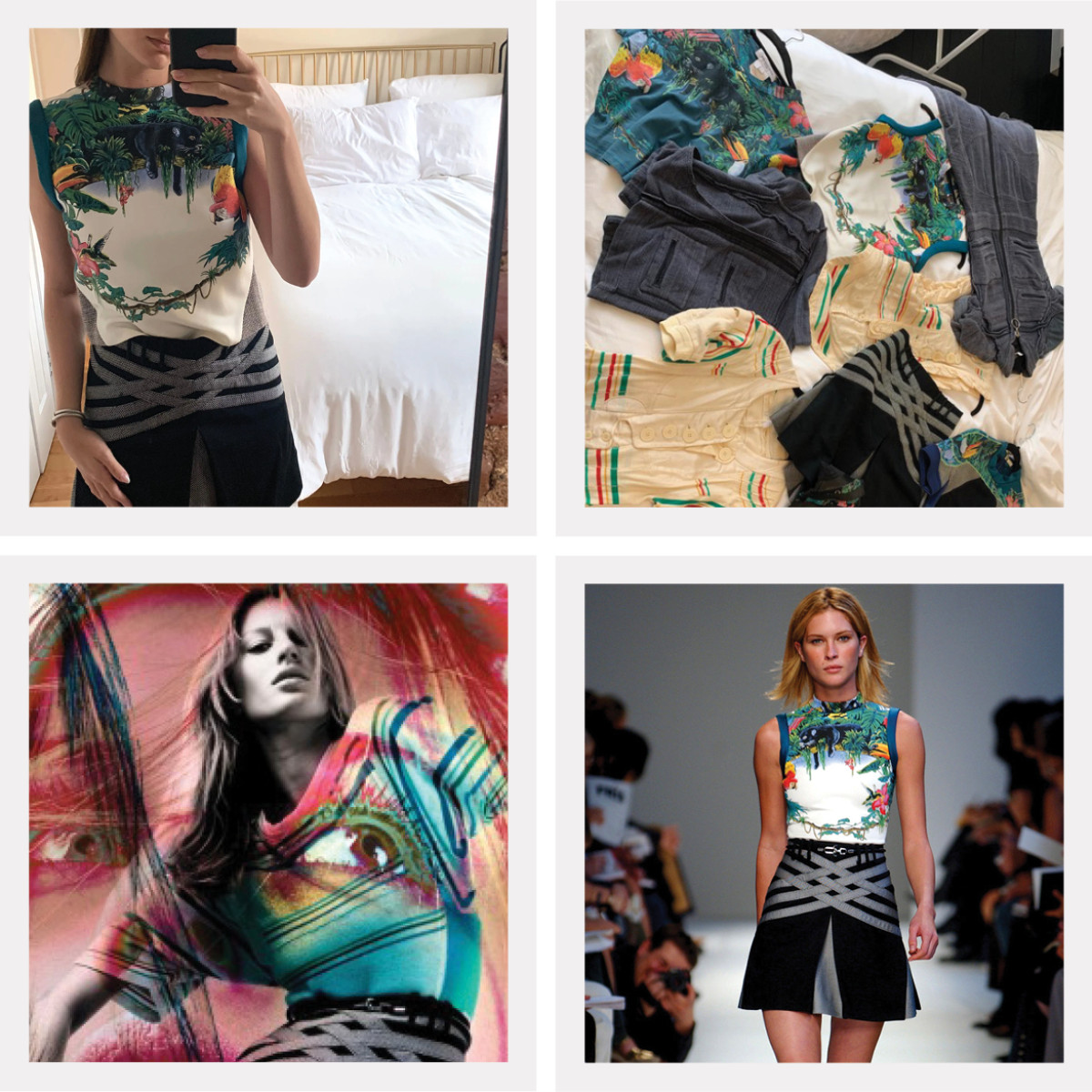 What's your process for finding these pieces?
When I was first starting out I was snapping up everything I could find. Now, I'm much more particular about what I buy—and when I do find a piece that I've been looking for or something that completes a full look it's much more of a satisfying feeling than an adrenaline rush.
It's probably an unpopular opinion, but I really love the pieces that have been lived in as well. It's not just about collecting the clothes but also about collecting the memories and letting other people create memories with those pieces. I have one piece from Spring 2001—a simple white tank top with a scarf down the back—that is riddled with oxidation stains, but I'd never seen it on the market and I didn't know anyone else who has that top, so for me it's like owning a piece of history. I know it's been loved, and now it can be appreciated in a different setting.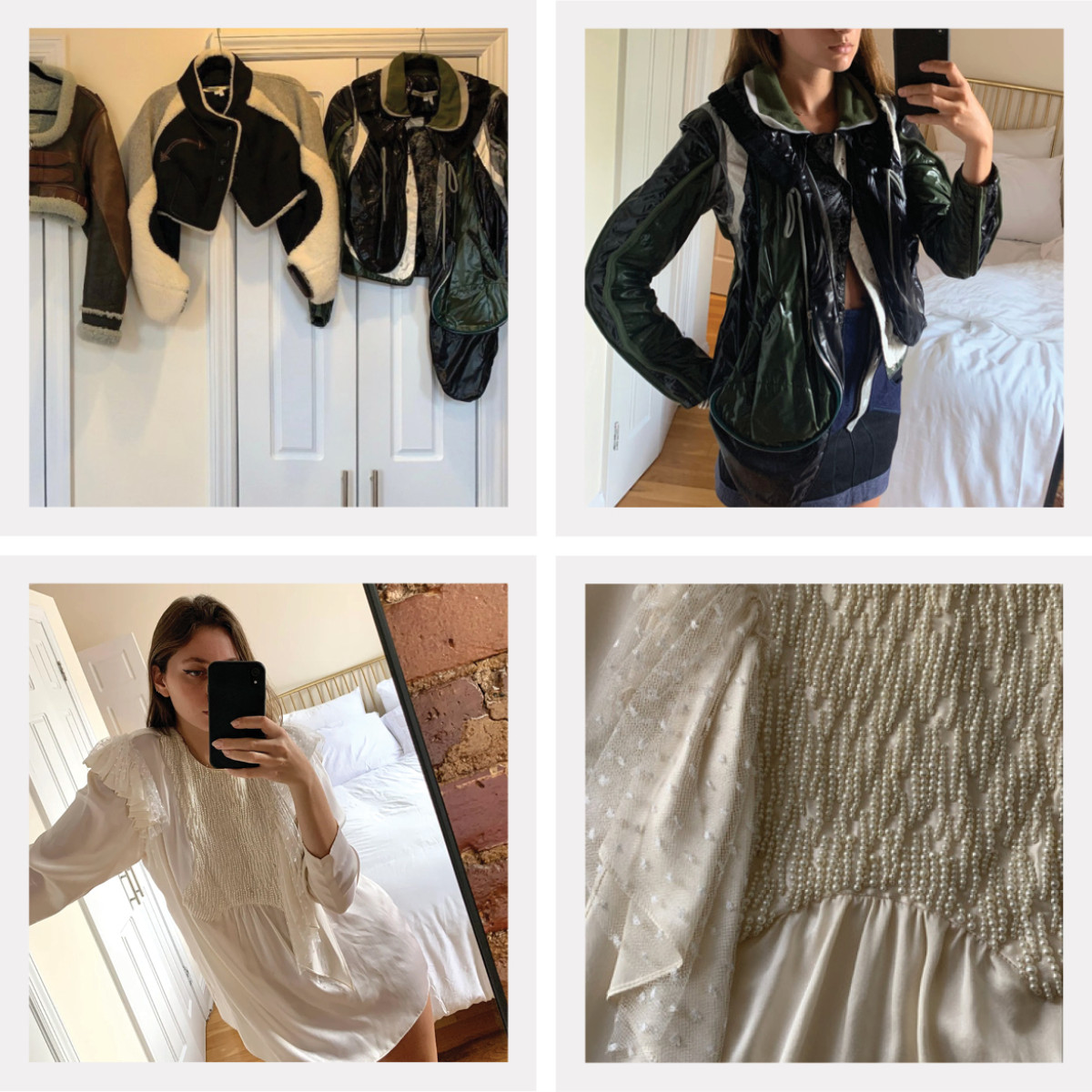 Do you wear any of your collection?
I used to wear my pieces—actually that's why I would buy them—until someone pointed out their financial value in being artefacts; I realized I probably should not wear them just in case one day they go to a museum or institution. That said, I definitely wear some of the jackets, like a cropped western jacket from 2003 that I love for the fall. I wore a fencing top from Spring 2003 to my best friend's birthday dinner one summer; a few months later it was requested for Self Service and it made the cover. I'm really not so uptight. At the end of the day, they're clothes. They're supposed to be lived in and they're not supposed to be pristine throughout their entire life.
Do you ever sell any of the pieces in your collection?
I actually sell my pieces pretty regularly. If I have a piece that's sitting on its own and is not part of a whole runway look, or if it's not from a collection I'm passionate about, I'm not opposed to selling it to a collector who I know will love and appreciate it more than me. I'm really not about hoarding everything that's on the market. I don't look at collecting as a game that I have to win; I don't think that's what it's supposed to be about. I admire other collectors and I really try to help them out as well; there are certain pieces I'll purchase with a specific collector in mind. My main reason for collecting was always for these pieces ultimately to be on display in some form. Right now, they all sit in a closet in my apartment, and, I'll be honest, I can't remember the last time I opened it. The goal for me is to have these pieces be accessible. There are definitely certain pieces I'd hang onto, but if you ask me next month my answer would change.
What is your greatest find?
There's this wool scarf from Fall 2002. It hangs across my bed, and I stare at it when I fall asleep at night and when I wake up in the morning. It's very emblematic of Ghesquière Balenciaga. Another hidden meaning is Fall 2002 was the collection shown at the Gagosian uptown; living in New York now, it's a reminder of that. I also found the other runway version of the Spring 2002 Kate Moss birthday dress.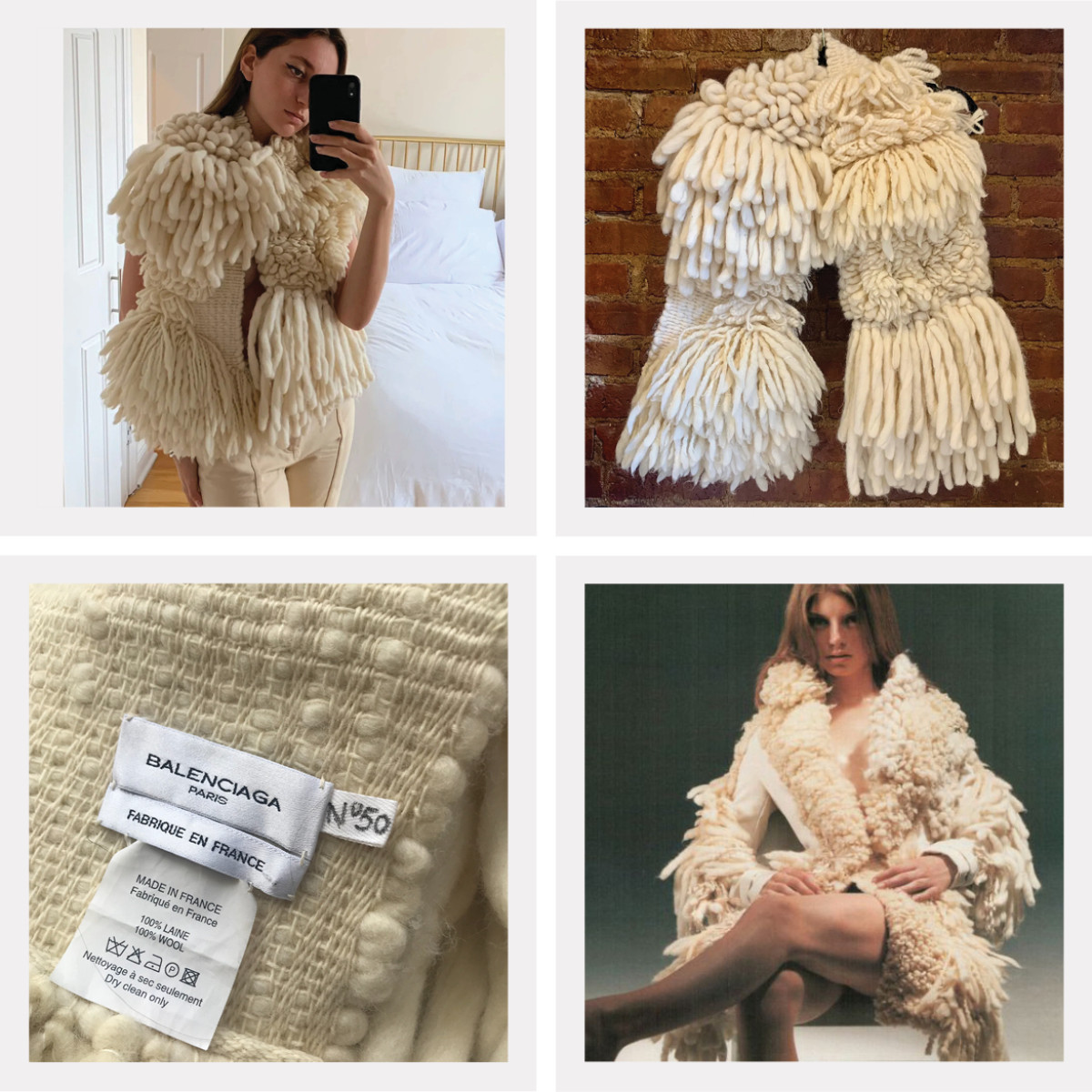 Most recent purchase?
My most recent purchase is this Fall 2000 burnt orange top with these taffels running down the front. I needed the leather pants that go with them, and I knew this collector who had them, so I traded a leather skirt from Fall 2001.
What's the piece that got away?
I once found this cargo halter top from Spring 2002, but I lost the auction and I was devastated because I would die for that piece. Not even 40 minutes later though, I found a Spring 2001 top on a really random website. It was just as good. It was probably better to be honest. I was so overwhelmed with my find that I called my mom and had to explain it to her.
What are you still searching for?
Green cargo pants. If I had green cargo pants in my collection, I would likely wear them. I'd make an exception!
as told to Zoe Ruffner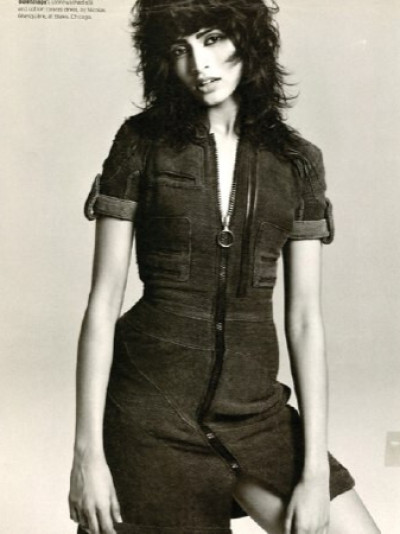 FROM EDEN'S COLLECTION S/S 2003 Lip Dress
"SS03 has always been the collection that I've referenced against everything else - both Balenciaga and all other designers. I'm constantly noticing new details in the dresses, tops, pants, etc and I absolutely love the jungle print motif. My first major piece was look 1 - it really left a mark on me from the time I discovered it!"
At ReSEE, every one of our vintage pieces comes with a story. This is, in large part, thanks to our unmatched community of consignors.
Though parting with such sartorial treasures may not be easy, the exceptional personal care we put into ensuring that they will go on to live a second (or, sometimes even, a third, fourth, or fifth) life offers a thrill — one rivaled only by that of the besotted shopper who adds them to her wardrobe.
Sell with us