Oscar de la Renta: The great American Designer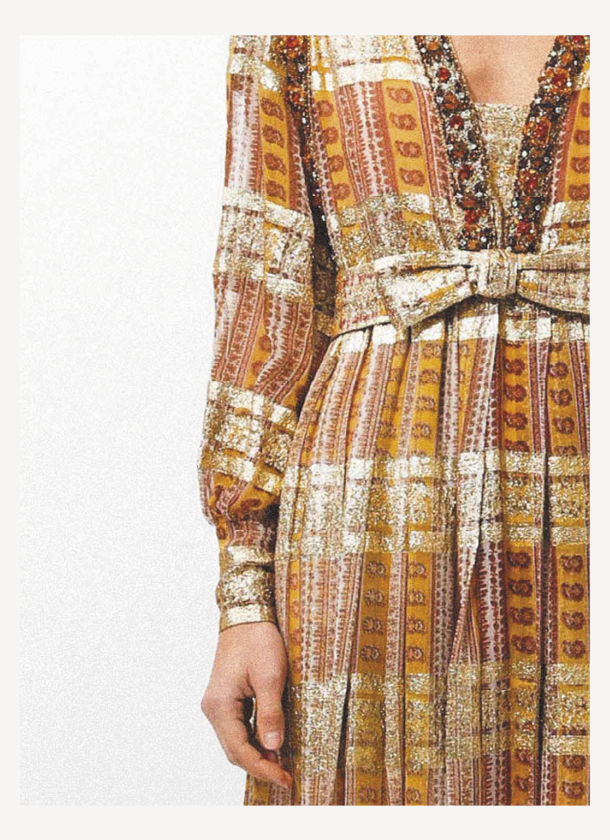 Photo credits: Oscar de la Renta1960s Beaded Lamé Gown
Oscar de la Renta is largely considered the great American Designer. Throughout his fifty year career, he created beautiful designs that allowed women to dream. Some of his most memorable and covetable work came in the earlier years of founding his House, when he had just returned from Europe.
Oscar de la Renta landed in Paris at the height of Haute Couture. Europe danced with intellect and fantasy as modernity filled the post-war air; as a young art student from the tiny Caribbean Island of the Dominican Republic, he absorbed everything around him.
De la Renta began working in the couture salon of Cristobal Balenciaga, before apprenticing under Lanvin's Creative Director, Antonio Castillo. It was here where he honed his eye and technique and where his talent was matched by a unique social flair and cultural curiosity, which brought him everywhere from the great bals and salons Parisiennes to vibrant and extravagant Gypsy weddings.
Whether being the nomadic Romani or Bullfighters he befriended in Spain or the elegant woman he frequented in Paris, his time in Europe would go on to inspire every aspect of his work
Carrying this experience with him, he returned to New York where he married the former French Vogue Editor in Chief, Françoise de Langlade and opened his House in 1965. The couple was legendary in their social clout, hosting some of the most extravagant dinners in New York..
It was at this time, where Oscar de la Renta created his most coveted pieces. Unlike other American couturiers at the time who verged on conventional to appeal to the local socialite, Oscar de la Renta brought the European flair of his youth to the sophisticated American woman. His eveningwear was never literal, but always an invitation to a dream — bohemian bellowed sleeves, kaftans, colorful peasant ensembles. In every piece there was a sense of mystery, a whim of curiosity, an invitation to travel.
There was always a sense of the flourish of a great flamenco flounce in his dinner and evening dresses, the bias elegance of silk charmeuse in slim sheath dresses
-André Leon Talley
Finding these rare early pieces is always a gem, a true testament to vision and talent that was this great American Designer.
At ReSEE, every one of our vintage pieces comes with a story. This is, in large part, thanks to our unmatched community of consignors.
Though parting with such sartorial treasures may not be easy, the exceptional personal care we put into ensuring that they will go on to live a second (or, sometimes even, a third, fourth, or fifth) life offers a thrill — one rivaled only by that of the besotted shopper who adds them to her wardrobe.
Sell with us