The Style Series: Anouk Biard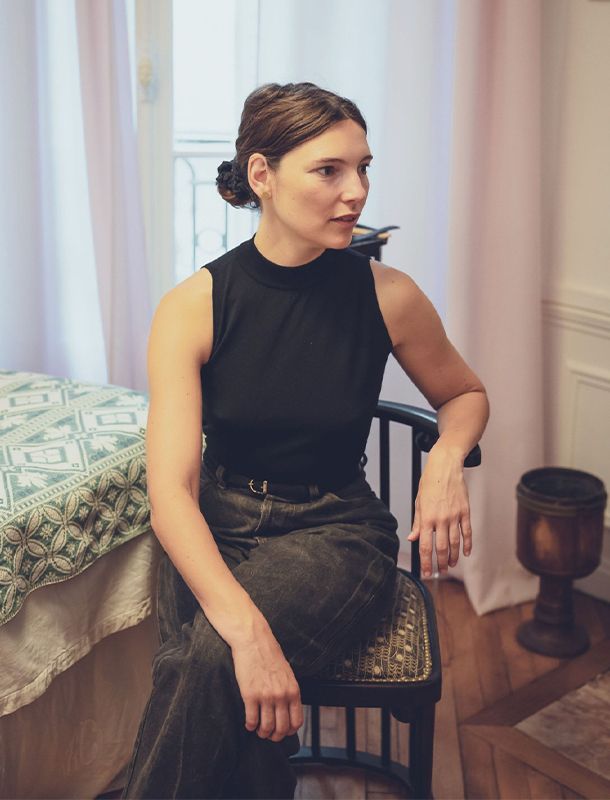 Anouk Biard grew up in the south of France visiting auctions and flea markets with her grandmother, a former antiques dealer, so it should come as no surprise that her 9th arrondissement studio, where she now practices the ancient art of kobido massage, is filled with striking, secondhand finds, from a Josef Hoffman chair and an Art Deco vitrine to decorative vials containing essential oils. Such a design sensibility matches her approach to skin-care: "Women are always looking for what's new, but I think that the time-tested products work best." Below, the facialist discusses her favorite finds and the few products that deserve a place in every beauty line-up.
When did you start wearing vintage clothing?
I've been wearing vintage clothing since I was a teenager; my mom was always pushing me not to dress like everyone else. In the town I grew up in, there was this very cool vintage store. When I was 16, I would model in some of their catwalk shows… It was quite fun.
Later on, I worked for Céline and Margiela, but I still thought that vintage was better quality and better designed—and I liked the fact that no one had the same pieces. When I worked for the jewelry designer Marie-Hélène de Taillac, I started to enjoy dressing up more, so I played a bit and began to collect more quality vintage—like Emanuel Ungaro, Yves Saint Laurent, and Lanvin from the 1970s—over quantity.
Now, almost everything I wear is vintage because it's more sustainable; I even buy second-hand Bonpoint and Cacharel from the 70s and 80s for my daughter. Vintage stores are always the first thing I look up in new cities.
How did you get interested in vintage and antique homeware?
My grandmother, who I'm very close to, was an antiques dealer. She used to have a store; later, she restored porcelain dolls. I went to a lot of auctions and flea markets with her in the south of France as a child. When I was 12 or 13, I remember my friends asking me to redecorate their bedrooms. I'm still always giving advice to my friends. My cabinets are so full now, so my boyfriend says I can't buy any more objects, but my mom bought a huge old house in the south of France, so now I get to find things for that. It's a new game.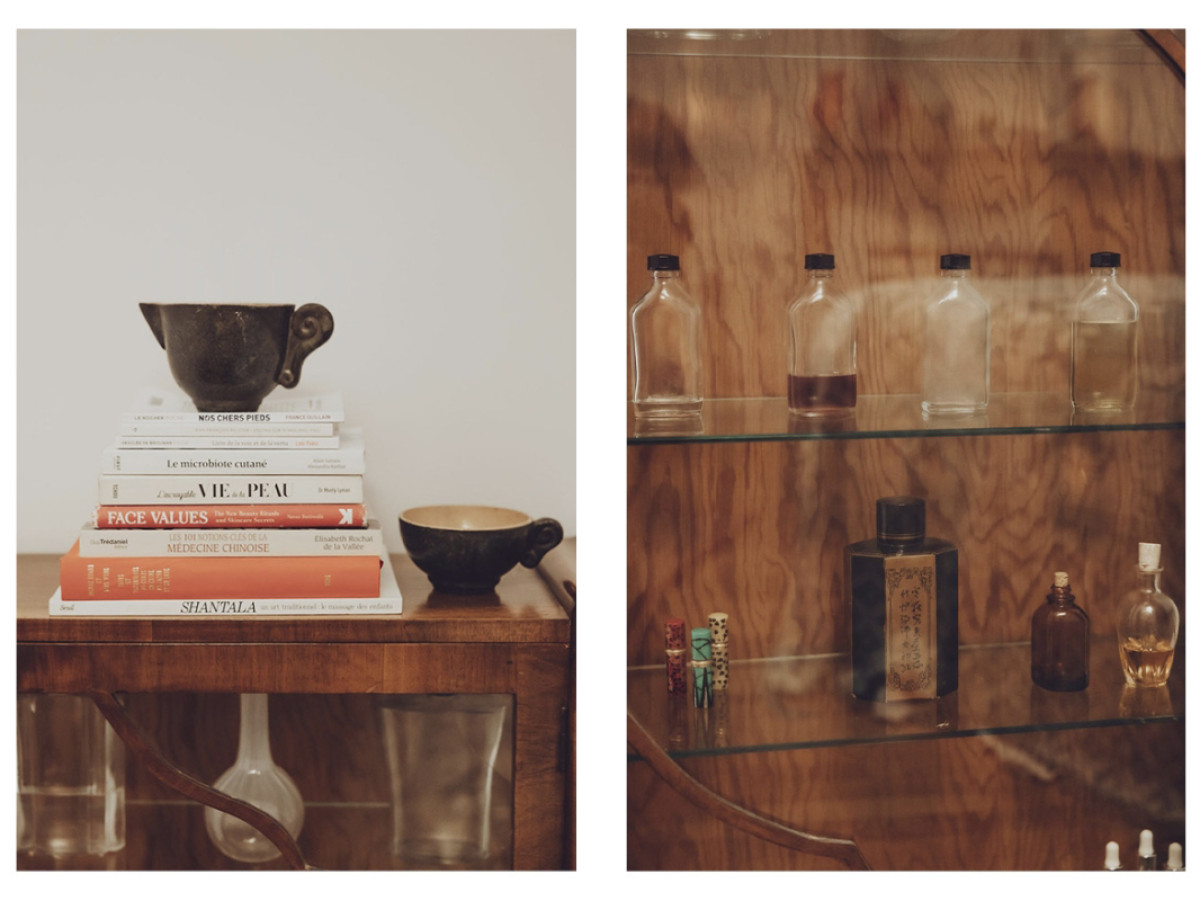 What do you collect?
As with fashion, my dream is to have the same style and objects my whole life. I don't want my house to look trendy; I just like what I like—an African seat, for example, with a 70s table and an Art Deco chair. Some of my favorite pieces are an antique carpet from the historic French factory Aubusson; two bedside lamps by Gae Aulenti for Murano; a toile imprimé by Jean Lurçat; a blue granite table from Eero Saarinen, which was originally a special order for an ambassador; and a beautiful Mithe Espelt mirror, which I got from my grandmother, who used to sell his pieces in the 60s and 70s. I recently found a Maison Jansen pouf for so cheap, but it needs to be reupholstered. I spend a lot of time reading and researching designers. I can get lost for hours.
Do you have any rules for collecting or taking a piece on?
My rule is that when I wake up in the morning, I have to be very happy to see it in front of me. I already have many things, so, now, if I buy something, I need to be surprised by it and think, Wow, I need to have it. Sometimes, it takes a moment to figure out where to place it, but I never buy a piece because it will go well with something else or because I have a white space that I need to fill. It's the same with clothes; you have to really trust yourself and believe in what you like and not be scared.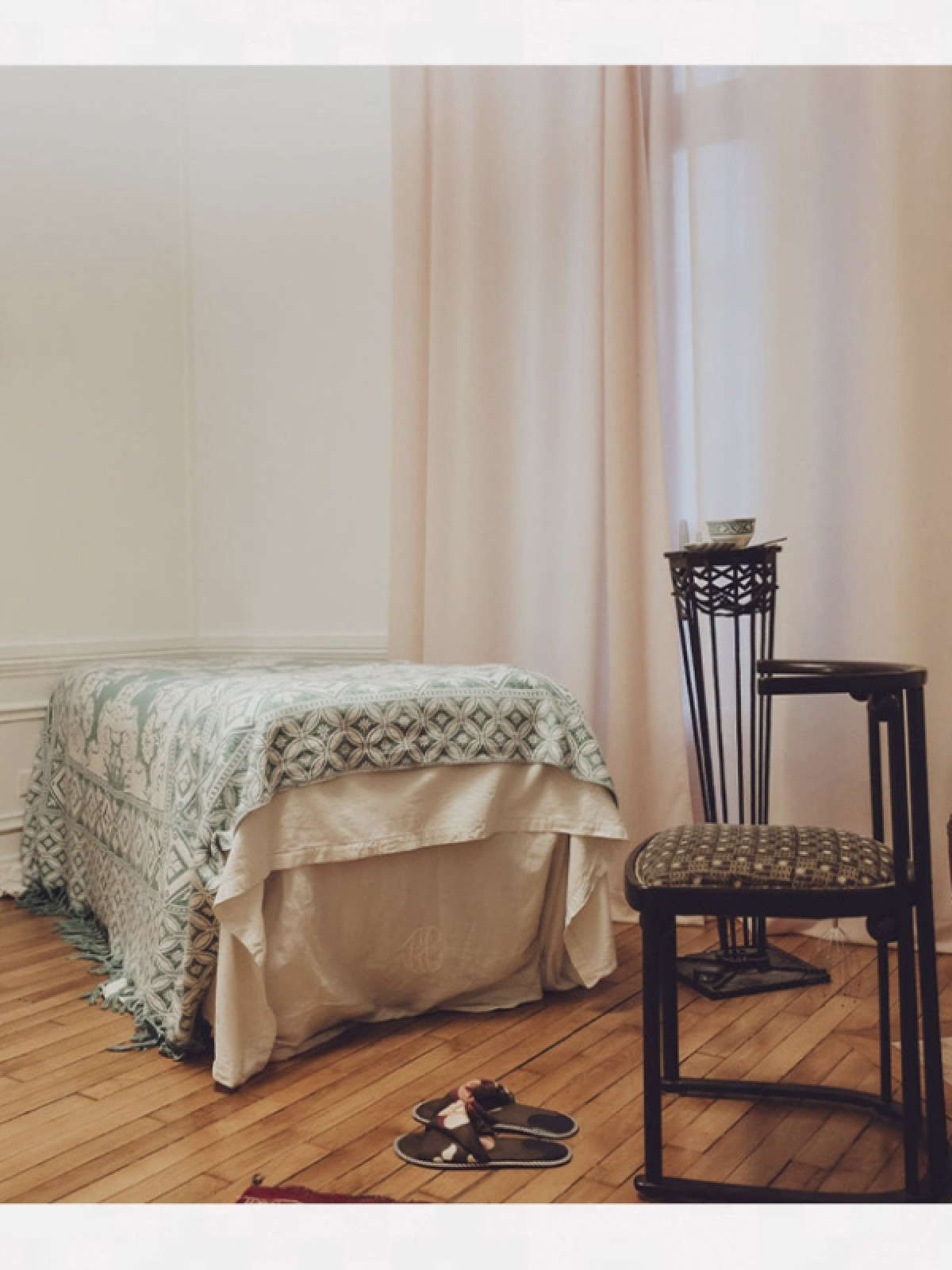 What's on your wishlist?
I keep a list of what I'd really like to have one day. For the past five years, I've been dreaming about a Fortuny lamp. Next year, I'm turning 40, so that will be my present to myself—but I don't know which one because they're all beautiful. I also have a lot of inspiration pictures from the 20s and 40s, so sometimes I have my couturière make copies of vintage clothes that I've seen, if I can find the right fabric.
Why did you choose to decorate your treatment room with vintage finds?
For starters, I need to feel like it's my own bedroom because I spend all of my days there, but also it wouldn't make sense for my space to look too clinical or contemporary because it wouldn't suit my beauty philosophy. Women are always looking for what's new, but I think that the basic, time-tested products work best.
What's your ultimate skin-care tip?
Listen to your skin—your skin will tell you if it needs something—and nourish your skin from the inside out. It's not about what you put on the surface; if you want to have good skin, you need to have good nutrition on the inside.
I also really believe in massage—both lymphatic massage, which cleans out the body, and facial massage, which helps your face look more alive. People often think massage is something that they don't need, but, if you care about the health of your skin, it should be one of your priorities.
What are the products that you think everyone should have?
It's not sexy, but I really believe in good routines and simple products. I prefer to have a beautiful vintage jar for my oils or an antique silver plate for my soap, rather than having a very expensive cream.
I advise my clients to take Omega 3, which nourishes both your skin and brain. Every morning, I have two spoonfuls of canola oil. If you can't drink it, take two pills.
I use Oden oils and Lueur du Sud hydrolat sprays, which I change out depending on the season; noisette is good for breakouts, and, if you've been in the sun, millepertuis, which comes in a beautiful red color, is great for repairing the skin. I also love geranium and hamamélis.
For the body, I recommend a dry brush and oil from Centrale Formentera; the smell is divine.
Lastly, I love La Bouche Rouge lipstick; the packaging is beautiful. If I'm really tired and not feeling pretty, I will put on a rich red.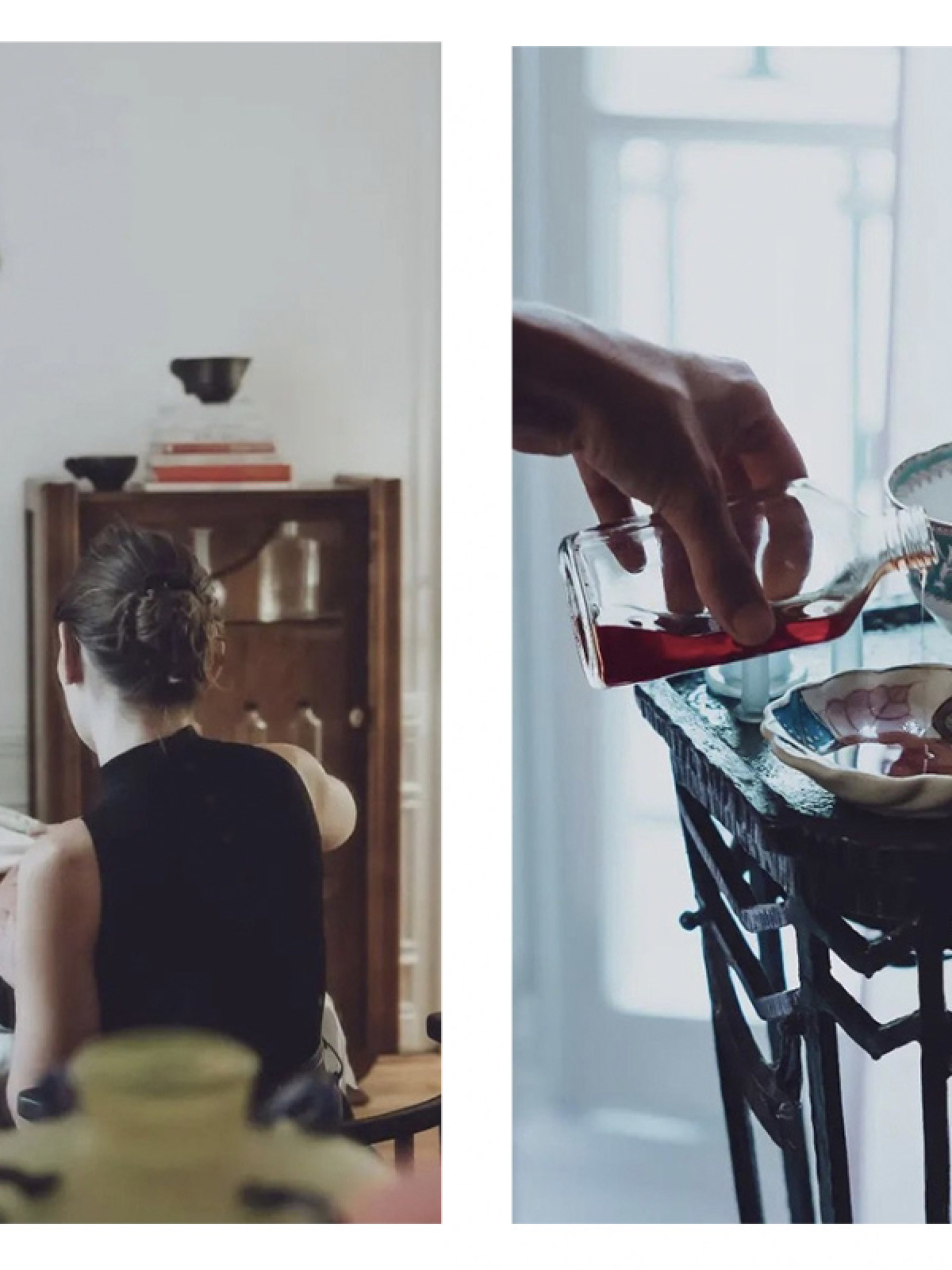 At ReSEE, every one of our vintage pieces comes with a story. This is, in large part, thanks to our unmatched community of consignors.
Though parting with such sartorial treasures may not be easy, the exceptional personal care we put into ensuring that they will go on to live a second (or, sometimes even, a third, fourth, or fifth) life offers a thrill — one rivaled only by that of the besotted shopper who adds them to her wardrobe.
Sell with us