The Style Series: Azza Yousif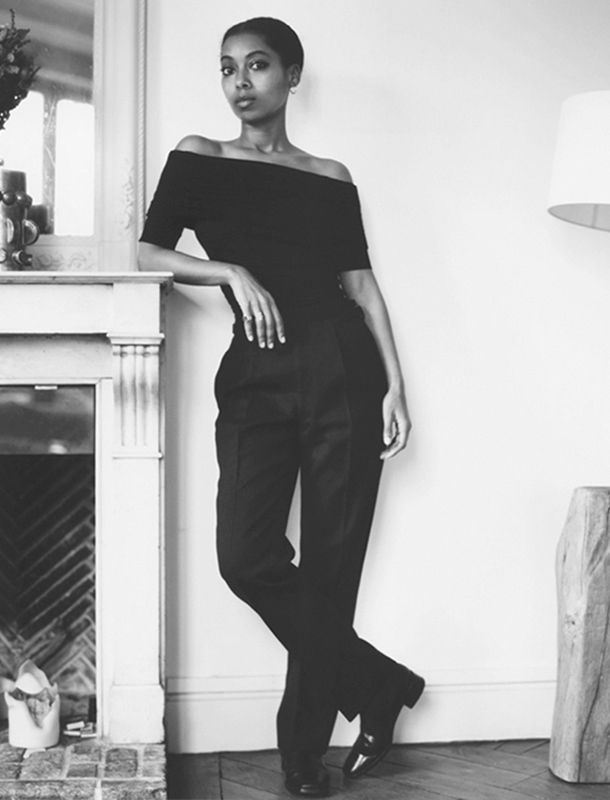 Although the Cairo-born, Paris-raised stylist Azza Yousif admits that her parents once hoped she would follow a different career path, her father, a UNESCO diplomat, is nevertheless, at least partially, to thank for her fascination with fashion. "My dad traveled a lot for his work and every time he went to a different country he would bring me something traditional from there," the former Vogue Hommes editor recalls, pointing, in particular, to a handmade coat from Uzbekistan, which still hangs in her closet.
These days, after spending her teenage years scouring Parisian friperies, Yousif continues to look far and wide for exceptional pieces, whether when dressing the writer and activist Michaela Angela Davis in Black designers from Detroit and Kenya alike, or hunting down her signature '80s door-knocker earrings, which she pairs with simple cashmere sweaters and a wardrobe full of vintage Alaia and Yves Saint Laurent. "I buy more secondhand clothes than I do new at this point in my life," she says. "It really excites me."
Here, Yousif discusses the excellence of menswear, why one can never have enough black trousers, and the Raf Simons for Jil Sander dress that she's still trying to track down.
How did you get into fashion?
When I was young, I was really drawn to psychology—I wanted to be a therapist—but I really think fashion is actually psychology through clothes. I always loved art and I always loved people, and I think I found an exciting balance in fashion. I was excited by it and the way people put themselves together. No one in my family comes from a creative background, but I went to art school and then I went to Studio Berçot in Paris where I studied fashion. While I was still in school, I was interning for designer Andre Walker. I worked for him for about a year. When he closed his company he introduced me to the stylist Antje Winter. At the time, I wanted to be a designer. I didn't know what a fashion styling job was really, but Andre encouraged me to try it out. After I worked for Antje I worked for Anastasia Barbieri who was fashion director of Vogue Hommes and editor of Vogue Paris. Then I became an editor and stayed for ten years. Now, I do more creative consulting and I'm moving into film directing. I'm just at the very beginning of that.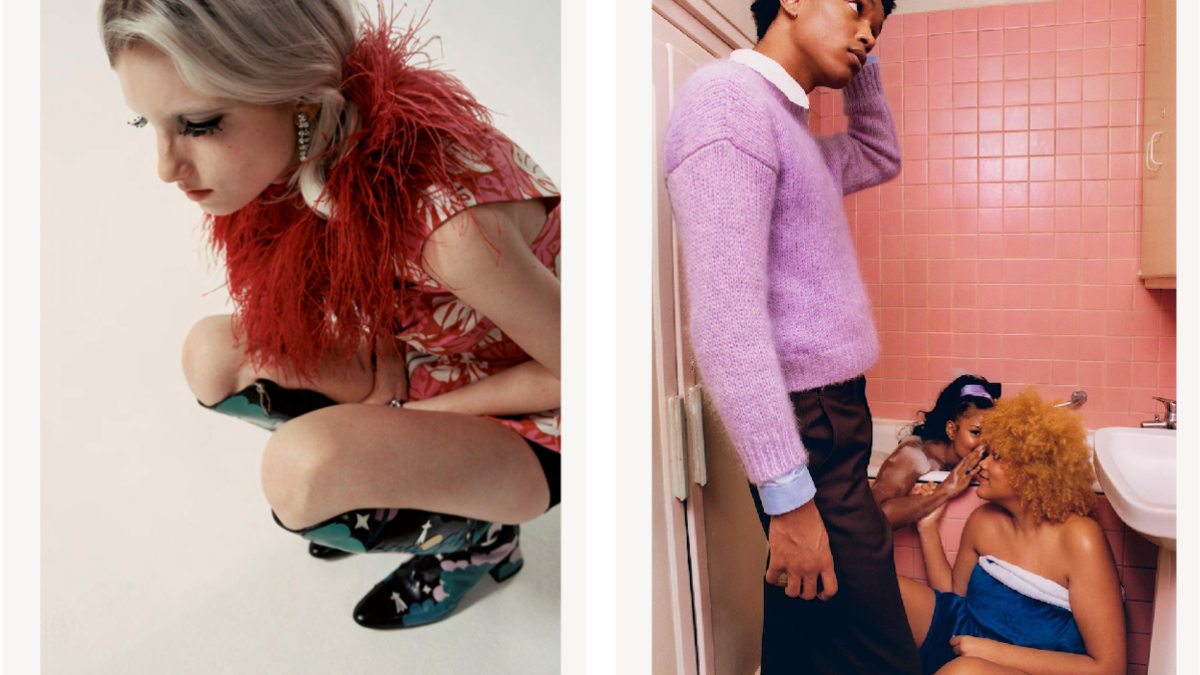 You were born in Cairo, grew up in Paris, and traveled the world as a child with your father. How did that influence your approach to fashion?
It helped me develop that curiosity to understand cultures in general. I also saw how when you change cities or countries, somehow the things that worked in one place don't work somewhere else.
Every time my dad went to a different country he would bring each one of us—we were four kids—something that was traditional from there. It was a lot of clothing actually. He'd go to China and he'd get us an embroidered outfit, or when he went Uzbekistan he brought me this beautiful handmade coat. That also really developed my sense of different aesthetics. I still have that coat—I haven't worn it in 20 years, but I dont think I'll ever get rid of it.
You worked at Vogue Hommes for a number of years. Do you incorporate mens clothes into your wardrobe and how so?
Even as a teenager I would always mix in men's clothes. In the '90s, I was really into Aaliyah, so I'd wear a crop top and men's baggy trousers. Working with menswear really makes you appreciate the quality and purpose of a piece of clothing and focus on the beauty in the simplicity—a good cut and a beautiful fabric is extremely exciting. I once read an interview with Phoebe Philo and she was saying how she brings a lot of menswear details into womenswear because menswear clothing is thought with a practicality that isn't always incorporated into womenswear. Someone can make us a beautiful dress, but it's not really comfortable or fitting to our lifestyles; it's just created for the sake of its beauty. There's always a practical side to menswear. That is something I really appreciate in clothing—it should fit my lifestyle and not the other way around.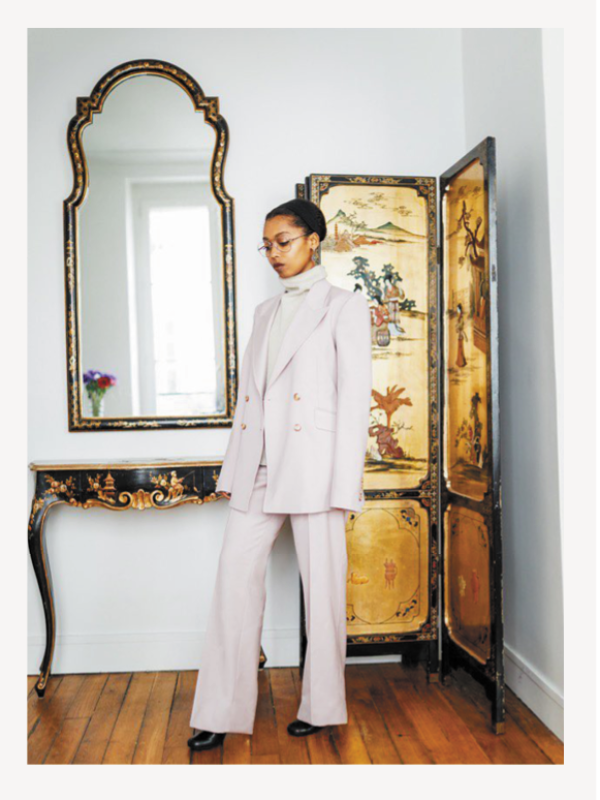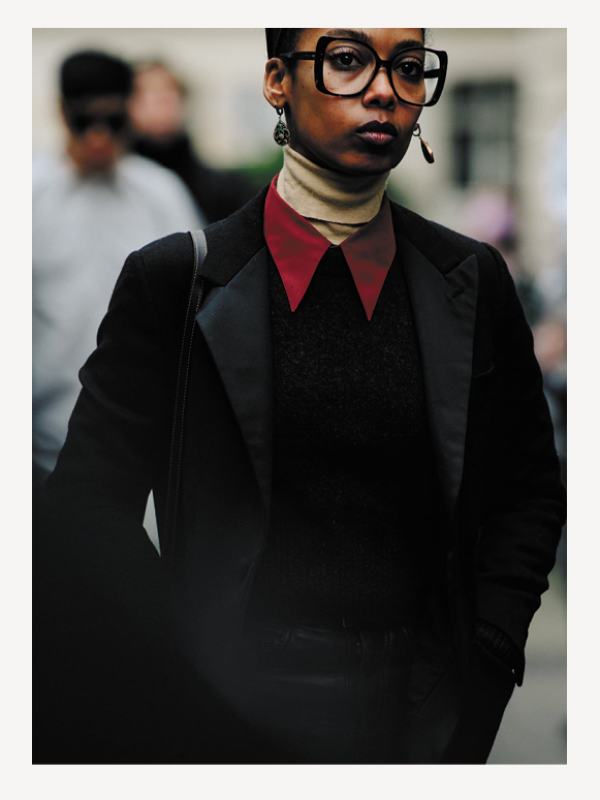 Why are you drawn to vintage and secondhand?
I think it probably started when I was in a really posh school in Paris. Kids would spend a lot of money on clothes, but my parents were like, 'No way. It's indecent for you to buy clothing that's that expensive.' So I'd either work—babysitting or summer jobs—to buy the stuff on my own, or I'd go thrift shopping. I was obsessed. I would go to Guerrisol and find the most incredible stuff. Treasures. I buy more secondhand clothes than I do new at this point in my life. It really excites me.
What are your go-to vintage eras, designers, or pieces?
I'm a very Yves Saint Laurent girl. I also love Alaia, and Helmut Lang but it's harder to find. I have a beautiful sheer black lace dress from the '40s that I really adore. When I found it it was in incredible condition. I do have a lot of vintage slip dresses too. I also have this vintage Guy Laroche black trench coat. It's a very '80s silhouette with big shoulders and a double closing. I really love that too. I'm still always on the lookout for some good Phoebe Philo pieces, and there's this one Jil Sander by Raf Simons 1930s-inspired black dress that I dream about and wish I would find one day. At the time, I just thought it was so beautiful, but I was too young—I think I was still an assistant and wasn't buying clothes that were that expensive. I still think about that dress though. It's funny how fashion is—some things you still think about.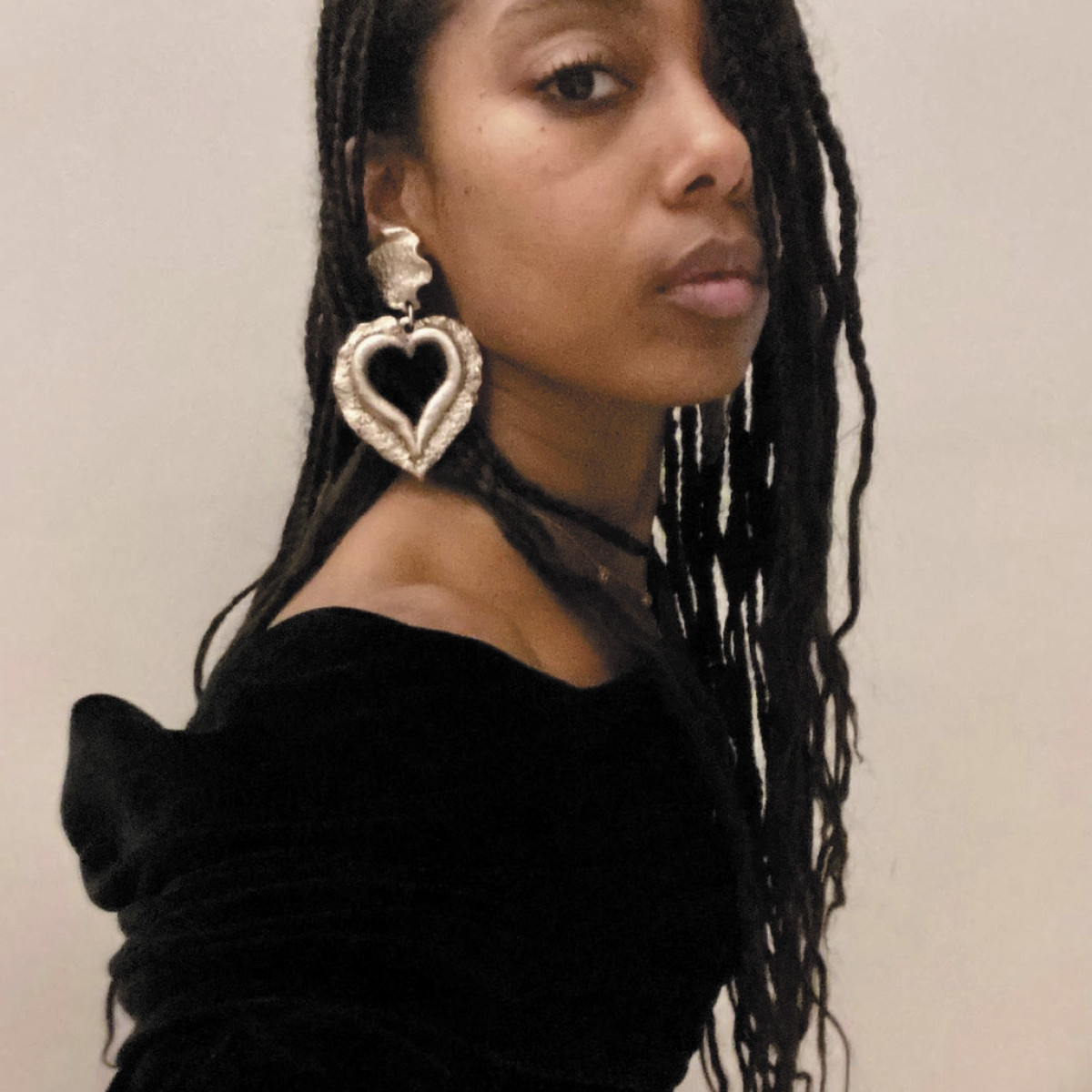 What are your wardrobe essentials?
I always look for a good pair of trousers that are practical but also enhance your body and make you look good. I'm always trying to update that because, even if you think you have one perfect pair, there are so many different ways to have black trousers: Are they baggy or loose or straight? That's a good solid base, along with a cashmere or wool sweater. I wear a lot of jewelry, so it's really like a uniform. Lately I've been finding the most incredible vintage earrings from the '80s. They're really big.
What are you excited to wear this spring?
I'm most excited for lighter clothes. All winter, I wear black, navy, grey, and white, but spring and summer is when I get very colorful. I have more fun with blouses and short sleeves and dresses. I'm more of a warm weather girl.
How does your hair influence your approach to getting dressed?
I just did extensions for the first time ever. It's great to be able to have fun with your hair. I got to experience another me because my natural hair would never grow this long. I'd be waiting all my life! When you have long hair there's a kind of undisputed femininity to your look—even if you wear an oversized T-shirt, you still look feminine. Now, I'm back to short. I don't want to get addicted to extensions because I like myself with my natural hair—and also when you do it too much your hair breaks and it's important to give it a break—but I will do it again.
Do you have any style rules or mantras?
I think it's just important to be true to yourself and your identity and not be something else. That's helped me with shopping—sometimes I think something looks fabulous, but I realize it's not really me. I try to be true to myself.
What do you keep in your styling kit?
I'm a Virgo and like to be prepared for any possibility or any problem, so my styling kit is a huge suitcase. I have everything from Topstick tape to little tools to fix jewelry. I really have everything just in case.
as told to Zoe Ruffner
At ReSEE, every one of our vintage pieces comes with a story. This is, in large part, thanks to our unmatched community of consignors.
Though parting with such sartorial treasures may not be easy, the exceptional personal care we put into ensuring that they will go on to live a second (or, sometimes even, a third, fourth, or fifth) life offers a thrill — one rivaled only by that of the besotted shopper who adds them to her wardrobe.
Sell with us