The Style Series: Elizabeth Stewart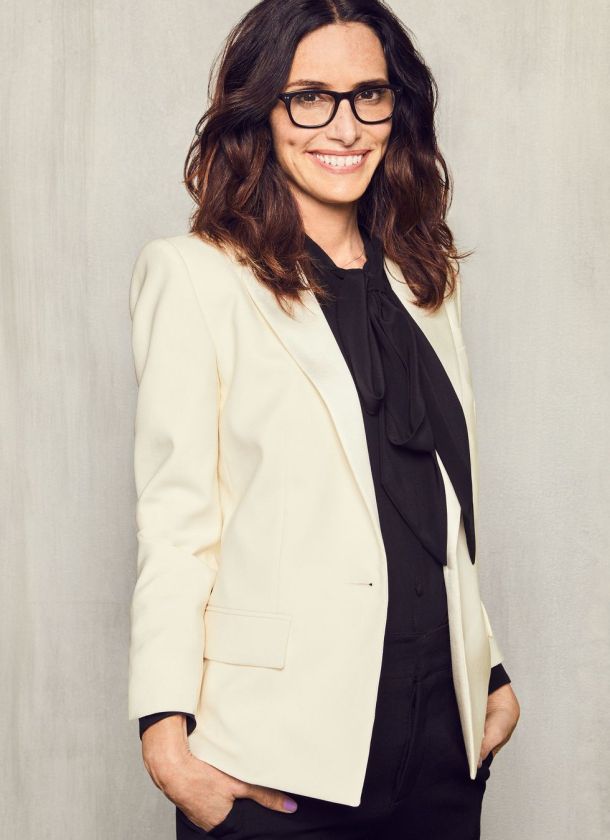 Photo credits: Sami Drasin, Walter Schupfer Management
In a society that chastises outfit repeaters, the Hollywood stylist Elizabeth Stewart stands apart: "I've done this a long time and I can't not think about the impact we're having," says Stewart, who recently dressed Cate Blanchett for The New Boy press tour in a handful of cherished pieces—a Louis Vuitton belted jumpsuit; an Alexander McQueen denim blazer—that the Oscar-winning actress had already worn.
Such a mindful approach to styling has become Stewart's defining modus operandi, both for her roster of leading ladies—in addition to Blanchett, Stewart also works with Jessica Chastain, Viola Davis, Amanda Seyfried, and Julia Roberts—and for herself. As she puts it, "When I do bother to shop for myself, which isn't a lot, I think about what it is and where it comes from."
Below, Stewart discusses sustainable wardrobes, wearing vintage on the red carpet, and her ultimate style rules.
How would you describe your style?
"I always feel strange being asked about my style because I don't put too much thought into it. I'll just say it: my own style is a bit lazy. I spend way more time on my clients than myself.
I went through a really long cycle where I just wore dresses with cardigans, so all my assistants started calling me Grandma Olsen because I looked like an Olsen twin… Now, I've been in a jumpsuit phase because it's just one piece and I got tired of dresses.
I don't want to think about what I'm wearing when I wake up—I just want to grab something—but when I do bother to shop for myself, which isn't a lot, I think about what it is and where it comes from. I try to be really thoughtful about what I'm putting on my body because I don't want to be frivolous. Lately, I've become obsessed with wearing vintage, and I do a lot of research on B-corp corporations and who has the highest scores. I keep up with fashion because I obviously love it—and I want the business to keep moving forward—but personally I don't want to contribute to waste."
What are your wardrobe essentials?
"I can't get enough of Levi's, and I have T-shirts in multiple from James Perse, which is a local California brand. I do love to shop local whenever I can."
How do you approach styling your clients?
"I have to get to know my clients and have a connection. It's really important to me that they're not just wearing what I want them to wear. I want to be pulling what they would pull, if they had my fashion background and the time and wherewithal to do what I do. I'm not remaking people's images. I think my clients appreciate that, and I think that's why I work with the people that I work with.
Often, I will approach a press tour with, Here's the story we're telling, much like my editorial days when a fashion story would have a theme, but I also really believe in trying things out, experimenting, and not worrying about how it appears to anybody else because I think that something my clients have in common is that they're dressing for themselves. Even though they're being dressed for these press tours, it's ultimately something they love and something I love and it's just for the pleasure of that, as opposed to trying to create a certain sort of image."
Why are you drawn to vintage?
"I've always loved everything about fashion: the new, the old… I think most stylists are like that. The reason I stick to buying vintage when it comes to myself is just to be as sustainable as I can possibly be, which is hard in an industry that's about change… I was just watching the new Valentino Couture show, and I want it all for my clients, but I've done this a long time and I can't not think about the impact we're having. There's so much interest in what stylists do… It's about using that interest to promote a more sustainable future."
Do you incorporate vintage into your clients' outfits?
"There was a period when stylists were very, very focused on 'It has to be the latest thing, and I have to prove that I can get this designer to show my power…' Now, I don't care if it's in store or if it's 100-years old… Whatever we love is what we're going to use, and we will be as thoughtful as possible, although I'm not so strict that everything has to be completely sustainable or vintage because I also love new things. I'm open to all of it."
What's one of your favorite vintage styling moments?
"I did a press tour with Kristien Davis for the second Sex and the City movie. We had everything in our fittings—new and old—and it just turned out that all of our favorite premiere dresses were vintage. We said, 'Fuck it. We're going to wear only these dresses because they're all of our favorites.'"
What are your greatest vintage finds?
"I have a lot of great Oscar de la Renta and Valentino from the 80s, and there's some great vintage Moschino out there, like a one-piece A-line jumpsuit with a tie, which I absolutely love. I was just at an estate sale looking to match my mom's silverware, and my assistant went into the closet and found this incredible Lanvin tie-front, button-down dress from the 60s. It's the perfect hostess gown."
What's on your vintage wishlist?
"When I worked for Women's Wear Daily I went to all the fashion shows, and I'm amused by the ones that I've never forgotten. In the early 90s, there was a Gaultier show based on Orthodox Jewish looks and a Galliano show in a hotel in Paris… It would be a dream to have pieces from these really memorable shows, or something from the houses that don't exist anymore, like Jean Desses."
Do you have any style rules?
"I always think it's funny that people still think that they have to follow arbitrary rules, like no white after Labor Day, but the number one rule that I think any stylist would say is that fit is critical. It's about finding the brands and collections that fit you the best—there was a time when I wore only Balenciaga by Nicolas Ghesquière and then he left, so I switched to Prada dresses because they fit me really well—and finding a tailor you like. People are always asking me for my tailor, but you don't need my tailor who does couture dresses; your local dry cleaner is going to have somebody good for what most people need, which is just tweaks. Aside from good fit, I would say my rules now are about making conscious choices and trying to stick to resale, for myself and my family at least. I just hate the thought of waste."
Shop Elizabeth's Selection
At ReSEE, every one of our vintage pieces comes with a story. This is, in large part, thanks to our unmatched community of consignors.
Though parting with such sartorial treasures may not be easy, the exceptional personal care we put into ensuring that they will go on to live a second (or, sometimes even, a third, fourth, or fifth) life offers a thrill — one rivaled only by that of the besotted shopper who adds them to her wardrobe.
Sell with us