The Style Series: Plum Sykes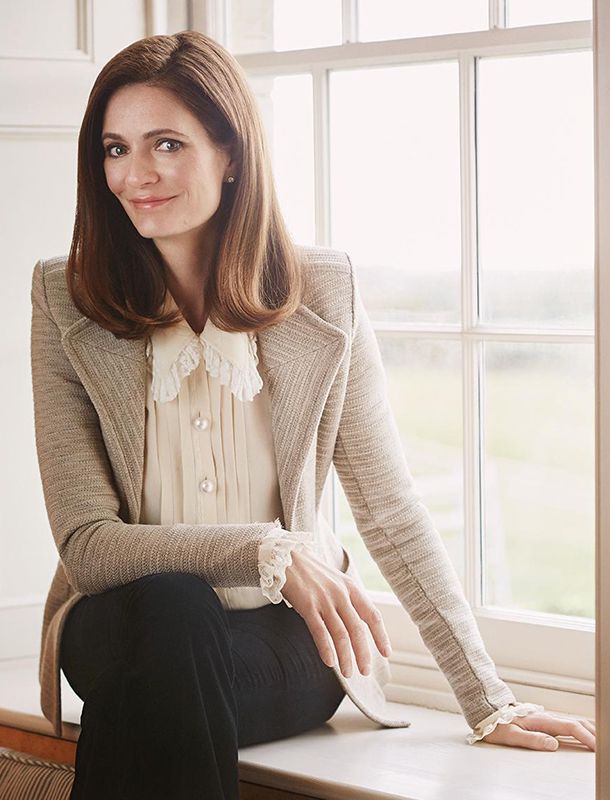 Photo credits: Plum Sykes photographed by Robert Fairer
When Plum Sykes first walked into Vogue's former Times Square office in 1997, the then 26-year-old British journalist still wore roses in her hair with threadbare finds from Portobello Market; nearly 30 years on, however, that penchant for gothic chic has given way to a classic wardrobe of traditional British tailoring and subtle (but nevertheless striking) foundations, influenced by her years spent in Manhattan working alongside the industry's reigning minimalists. Here, Sykes discusses her style evolution and the secret to making her clothes look good—no matter what she has on.
How would you describe your style?
It's repetitive. I think that when you get to my age—and you've worked in the fashion world for a long time—you start to realize that you have a look, which you've honed over years and years and years. I suppose my style is pretty classic, but I don't want it to ever be boring, so I'll always add something quirky or interesting. Recently, I bought a really beautiful black duchess satin strapless dress from Emilia Wickstead—it's literally the most classic piece—but I wore it with these bright red chunky Manolos, so it just looked a little bit witty.
What are your wardrobe essentials?
What I find is that when I want to buy new things, I actually always end up going back to the same things, like a well-cut jacket or coat, whether it's fur or tweed or wool mohair; if it's not well-cut—even if the fabric is wonderful—there's absolutely no point. I really think that tailoring is the backbone of your wardrobe, so, once you have that, you can wear whatever you like: a floaty dress or skirt, or a turtleneck with jeans, which I tend to get from Frame or Citizens of Humanity. I'm always in something that's structured—whether it's trousers or a jacket—but I don't tend to wear head-to-toe tailoring; that's too rigid for me.
I've also just discovered that Brandy Melville, which is where I go shopping for my teenage girls, has an amazing oversized lambswool sweater in the best navy. It's literally 35 pounds. Initially, of course, I was just taking my daughters, but then I was like, Oh my god, these T-shirts are really soft and they last. Now, when I go to shop for them, I go for me as well. I also have loads of cashmere sweaters and tweed jackets from the British brand Holland and Holland, which no longer exists.
In the 90s, you moved to New York to work at American Vogue. How did that influence your style?
It had a massive influence. When I moved to New York, I was only 26. I went to work wearing a rose in my hair and night dresses, which I'd bought in Portobello Market. I also loved these young British designers like Alexander McQueen and Hussein Chalayan, who were amazing tailors and sculptors of clothing. In the daytime, I was very London hippie, and in the evening I would wear gothic chic.
The thing I really liked about American style—particularly people like Calvin Klein, Narciso Rodriguez, and Helmut Lang, who were very influential at the time—was this simplicity; there was still amazing tailoring, but it was just very subtle. I realized that you didn't have to be looking like a gothic debutante to be chic every night. I experimented a lot in the Vogue closet and wore lots of Galliano, Narciso, Calvin, Ungaro, and Chanel, but, in the end, I was drawn to things that had a light touch and were not heavy or overdone.
I always liked that look of the all-American girl, which I mixed with my British style, so I went for the beautiful white T-shirt and the beautiful pair of pants with maybe a Chanel jacket or bag. That simplicity was not a London thing at all. It's funny because when I'd go back to London, I'd look very New York-understated, but it's very glamorous, in a way, because your hair's done, and you have a manicure and pedicure, and you have great Manolos; the New York thing is just this edge and this polish and this continual maintenance. In London, it's muddy Manolos all the way. It would be considered incredibly bourgeois to be in really clean Manolos.
You now live between London and the Cotswolds. Does that affect your wardrobe?
Dramatically. I definitely have a London wardrobe and a Cotswolds wardrobe. In the country, I spend a lot of time wearing riding clothes—like nice breeches and boots from Harry Hall or the Hunting Stock Market—and sporty Tory Burch sweaters. It's all very functional because it gets covered in mud and it has to go in the washing machine. The basis of so much great classic design is actually riding clothes; you can look really good in it, and it can still be incredibly functional, which I think is so wonderful.
If I go up to London, it'll be the same—jeans and a nice pair of boots and a little bit of jewelry—but then I'll put on a mink jacket or a Céline coat, or get my hair blown out just to up it a little bit. Living in the country, you don't buy as much fashion, so when you do buy something you really mean it. I was invited to a party for Christmas, and I realized that I hadn't bought a new party dress since before Covid, so I got a fitted, black-sequin Gabriela Hearst dress with an amazing black satin bow around the waist. It's very simple and clean. It's very New York actually. When you don't dress up so much, it's so nice to put something like that on.
Do you wear vintage?
I used to buy loads of vintage—which I would combine with newer pieces—from Portobello, shops in Amagansett, and the Chelsea flea market in New York. Now, I wouldn't necessarily go out and buy vintage because, to be honest, I already have the most amazing vintage wardrobe. I absolutely do go back and wear things from many, many seasons ago. I've got a tweed, one-off Chanel dress, which I bought at a sample sale probably 15 or 20 years ago; I wear it every month in the country in the winter. Those pieces are just timeless. I also have a navy blue Phoebe Philo Céline coat, which, interestingly, is more expensive now than when I bought it. I'd never sell it to anyone because it's the best coat. My daughter tries to take it all the time. She hates my clothes—she says they're all old-fashioned—but she loves that because Phoebe's cut was so good.
You were considered a muse to Alexander McQueen. Do you still have any of his pieces?
I have got tons of super, super old pieces from when he first started. Some of them I wouldn't wear now because they're completely see-through, but I loved them when I was 25. For the brand's 30th anniversary, Sarah Burton made this incredible jacket with all this beading on the shoulders; it was a cross between McQueen and Michael Jackson. That's the kind of thing I'll put on now for a super chic cocktail party and think, Yes, this still works. The cut's incredible; it's really sharp. He used to say that he wanted his clothes to be armor for women, and you put on an incredible jeweled McQueen jacket and you are fine.You feel amazing.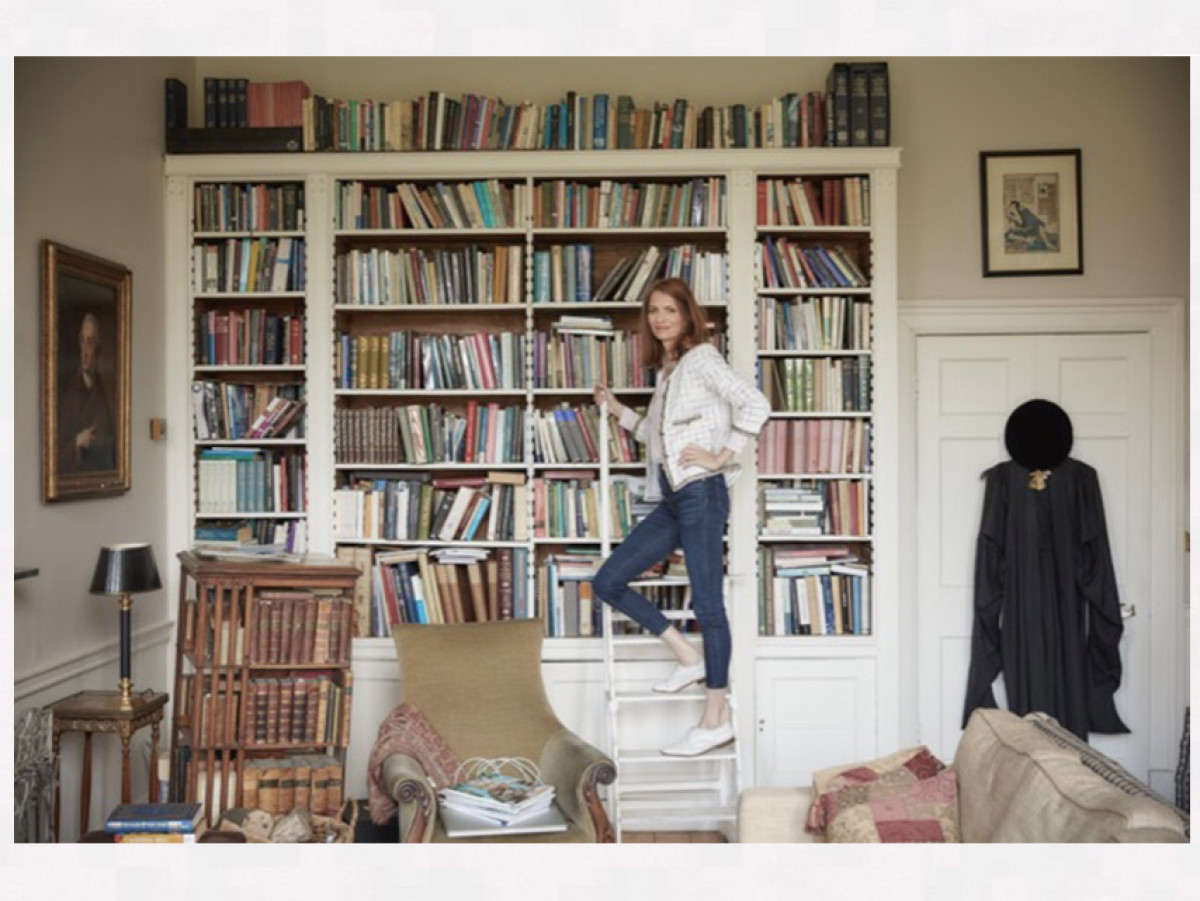 Plum Sykes photographed by Chris Floyd
What's on your wishlist?
What I really want and need right now is an amazing Eres swimsuit because I'm about to go on holiday to the Maldives. I'm a real believer in investing in really high-quality pieces that are going to last. I'd rather buy two Eres swimsuits than six others that would fall apart.
Do you have any style rules or mantras?
I want to say no, but the reality is I have millions of different rules—but they're entirely personal.
In a funny way, my fashion rule is actually a beauty rule. I think for me—because I'm 53 now—the key to clothes looking good is to have my hair not showing gray roots. If you've got nice nails and your nice hair, then you have a great foundation. There's no point in putting on a ball gown with your gray roots showing.
The only other thing I would say is, if I'm going away, now I always plan my outfits down to the last tee. I never take two or three options. I just travel really light and don't take any extra stuff, ever.
Shop Plum's Selection
At ReSEE, every one of our vintage pieces comes with a story. This is, in large part, thanks to our unmatched community of consignors.
Though parting with such sartorial treasures may not be easy, the exceptional personal care we put into ensuring that they will go on to live a second (or, sometimes even, a third, fourth, or fifth) life offers a thrill — one rivaled only by that of the besotted shopper who adds them to her wardrobe.
Sell with us